The Western Pacific Railroad Museum Webcam looks northeast from the Museum's Diesel shop. The view shows the RIP (Repair in Place) tracks, the museum entrance, and the Union Pacific Portola yard. The yellow building in the distance is the UP Portola Yard Office. The second view is westward down the canyon. The camera refresh rate is every 15 seconds and auto refreshes.

If you are using Internet Explorer and the image does not refresh, there is a security setting in Internet Explorer that does not allow refresh. It is under the Tools -> Internet Options -> Security tab; then choose Custom Level and enable the Meta Tag Refresh under Miscellaneous. Aside from being able to disable it selectively, it is automatically disabled if you set IE's security level to 'High'.


PORTOLA WEATHER
Search the wplives.org website...
---
---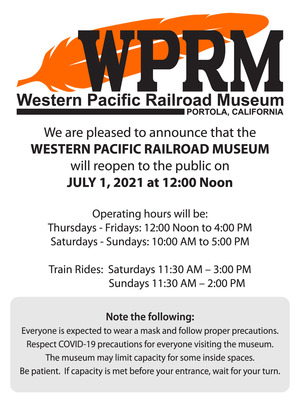 ---
---
---
---
---
Would you like to join our Operating Department?


---
The FRRS is a 501(c)3 Non Profit Organization.

IRS 501(c)3 Letter - EIN 68-0002774

Information about the FRRS at Charity Navigator


Help support the museum and society with a monetary donation via PayPal: