Latest Museum News Revision History
---
Museum is open for the 2022 season!
Thursdays & Fridays 12-4
Weekends 10-5
Plus: Labor Day 10-5
---
Next Board of Director's Meeting
August 13th
4:30 PM WPRM Meeting Room – Portola


July Agenda, Reports, Financials & Preliminary Minutes
Combined June Board and Membership Preliminary Minutes, Meeting Agenda, reports & Financials,
May Agenda, Reports, Financials & Approved Minutes,
and material for April 2022 and previous meeting material
HERE!
---
Around the Museum 2022 Gallery

Content is updated by javascript: /gallery/update_gallery_rev_dates.js
---
From the archives...
WP Tunnel List

---
For the modeler...
Steve Cavanaugh's Layout
Keddie Yard Office

---
Live Steam September 3rd & 4th
More information HERE.

---
Video of WP 165 pulling the Noon Train from 7/2/22.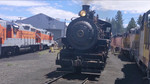 Watch it HERE!

---
FRRS/WPRM apparel & products available now!
Support the Feather River Rail Society
Shop HERE!

---
Support the FRRS when you shop at Amazon with Amazon Smile!
Start shopping HERE!