---
Latest Museum News Update:
Last updated Friday
June 18, 2021
Latest Museum News Revision History
---
The WP 705 Restoration Project
has started!
WP 705 Restoration Gallery

---
Robert S. Webber and Norm Holmes Drawer 1 Row 1 collections added to the Historical Archives Collection Page

---
Around the Museum 2021 Gallery Released
(includes photos from May track work)

Content is updated by javascript: /gallery/update_gallery_rev_dates.js
---
TRACK WORK COMPLETED
(posted 6/8/21)
The FRRS retained an outside contractor to do extensive track work on the balloon track from the sewer crossing to the interchange switch. Inspection showed more than 300 ties needed to be replaced, along with several sections of the outside rail. The work has been completed. There are photos of the work in the Around the Museum 2021 Gallery and a video of the first run on the refurbished track on the WPRM Gallery page.

---
6/5/2021
The Historical/Archives Department released a major new resource, H/A Collections. This is a set of new web pages that have put several of our H/A Collections online and has some search capability. Explore it here: H/A Collections

---
Next Board of Director's Meeting
July 10th
4:30 PM WPRM Meeting Room – Portola

June Agenda, Reports & Financials,
May Agenda, Reports & Financials,
April Agenda, Reports, Financials & Preliminary Minutes,
March Agenda, Reports, Financials & Approved Minutes,
and material for February 2021 and previous meeting material
HERE!
---
from the archives (new 6/2/21)...
Industries on WP ONLY in CA-NV-UT

---
Attention Modelers!
There is a new PDF document about
WP Mile Post System
See it HERE!

---
Re-mark your calendar!
Due to a scheduling issue with the hotel, the 2021 WP Historical Convention date has changed to
September 17, 18 and 19 in Reno.
More information coming soon....

---
The FRRS Board has announced museum reopening set for July 1st
More information on 2021 opening HERE!

---
WP Mileposts Magazines Online!
The Historical/Archive Department is pleased to announce the posting of the complete set of the WP's employee magazine, Mileposts. It contains 254 issues, from August 1949 to the 1983 merger with UP. They document the story of the WP, its people and events from an inside point of view. The collection is available on the Historical/Archive Department home page.
You can also see it HERE!,

---
Would you like to receive notices and information about the FRRS and WPRM by email?
Subscribe to our email WPRM News HERE!

---
FRRS/WPRM apparel & products available now!
Support the Feather River Rail Society
Shop HERE!

---
Support the FRRS when you shop at Amazon with Amazon Smile!
Start shopping HERE!

Search the wplives.org website...
---
---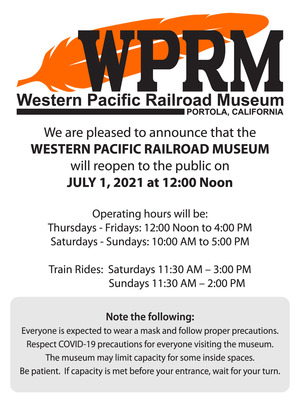 ---
---
---
---
---
Would you like to join our Operating Department?


---
The FRRS is a 501(c)3 Non Profit Organization.

IRS 501(c)3 Letter - EIN 68-0002774

Information about the FRRS at Charity Navigator


Help support the museum and society with a monetary donation via PayPal:
---