STANDARD, AND NON-STANDARD SN TRUCKS
By Garth G. Groff
With assistance from Robert A. Campbell, Sr.
Updated and corrected August 13, 2011.
The Sacramento Northern and its predecessors tried to standardize the equipment used on their cars and locomotives, but without complete success. Odd controllers, motors, and other gear crept into the fleet, the result of changing technology, experiments, and bargain purchases. This was especially obvious with trucks, which often are clearly visible in surviving photos. In addition to so-called "standard" trucks, there were a number of odd truck sets which often pop up in old photos, and sometimes moved around between various cars and locomotives.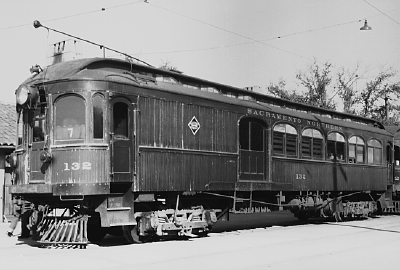 Rebuilt Niles combine 132 displays its 82-30A trucks at Marysville on
October 27, 1940, just days before the end of North End interurban service.
Baldwin MCB trucks were standard equipment on all North End Niles cars
and home-built Niles copy combines, with the exception of combine 201.
Kenneth C. Jenkins photo; Garth G. Groff collection.
The Northern Electric preferred Baldwin Master Car Builders' trucks for its interurban cars and its home-built locomotives. Most NERY cars, whether powered or trailer, received the 6-foot, 10-inch wheelbase "200" trucks, as they were called in company records. These were likely Baldwin's model 82-30A. In CARS OF SACRAMENTO NORTHERN, Swett refers to a "246" truck used on St. Louis cars 106-109, which was a nearly identical Baldwin truck of the same wheelbase. Cincinnati-built 103-105 came with MCBs of unknown type and make (with spoked wheels), called by Swett a "741". The correct number in the records was likely "241". Baldwin MCB trucks came with many design variations, including different equalizing bars, various bolsters or spring packages, etc. Several other companies also built trucks of essentially the same design. The differences are often not clearly visible in surviving photographs. Exactly what "246" and "241" trucks were is yet to be determined. Curiously, the 1916 California Public Utilities valuation lists "200" trucks for all three classes.

The lone exception among the Niles cars was coach 201. In 1914 this car was shopped for conversion to a combine, and when it emerged from the Mulberry shops in January 1915, 201 was mounted on massive Standard C-80-P trucks. C-80-Ps were first marketed in 1914, and these trucks were probably considered a test. Flash forward to 1937 when Baldwin MCB trucks were slid under the car, probably taken from Bidwell, which in turn received 201's now-demotorized C-80-Ps. Nearly all railfan photos of the parlor car were taken in the late 1930s, and show Bidwell riding on these massive trucks. Why this change was made is unknown, but many railfans feel Bidwell's delicate lines were spoiled by the gargantuan trucks.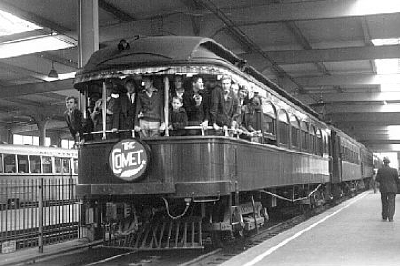 According to Ira Swett, Bidwell received 201's C-80-P trucks in 1937,
just as the railfan era dawned. This may explain why there are few photos
of Bidwell on MCB trucks except for company publicity shots from 1915.
C.E. Wright photo; Garth Groff collection.
NERY steel steeple cab motors 1001-1002 and wooden flat motors 1003-1005 used the same Baldwin MCB 82-30A trucks and motors as the interurban cars. Steel box cabs 1010 and 1020 were mounted on huge 90-50As, the largest MCB trucks ever offered by Baldwin.

St. Louis type 47 trucks with a 5-foot, 3-inch wheelbase were used under Chico Electric Railway streetcars 50 and 51, and probably were original equipment on the line's construction motor 701. These trucks had a curved top chord that made them resemble a hunchbacked Fox freight truck. When the Northern Electric Railway added streetcars 25-27, they also were equipped with St. Louis 47s. Curiously, CERY's other two streetcars, 21 and 22, plus the nearly identical NERY 28, were built with Brill 27-E trucks. Their wheelbase is unknown, but it also appears to be in the typical 5-foot, 3-inch range for streetcar trucks. CERY/NERY streetcars used two motors mounted on one truck, while the other truck was unpowered. According to Swett's CARS OF SACRAMENTO NORTHERN, 701 was originally built with Brill 27-E trucks (with two motors each) which were swapped for St. Louis 47s from streetcar 21 in 1913. This story is NOT supported by dated photos in Swett's own books, or by the 1916 California Public Utilities Commission valuation. However, the motor was riding on St. Louis type 47s when it was scrapped.
Niles copy combine 126 rides on Baldwin MCB trucks outside the Chico shops
in 1938. The truck in front of 126 is an 8-foot wheelbase Brill 27, recently removed
from Hall Scott motor 1020, soon to go under Cincinnati combine trailer 1026.
Garth G. Groff collection.
Another oddity was baggage trailer 90. This car was mounted on unpowered St. Louis 23 trucks (with spoked 33-inch wheels), the only known example on the SN system. These certainly weren't the original trucks with which the Pennsylvania Railroad equipped the car when it was built in 1895. Much about this car is a mystery, including the origin of these St. Louis trucks.

The Sacramento Northern Railroad added another truck surprise. In October 1920, the line took delivery of Alabama, the late traction magnate Henry Huntington's fabulous private interurban car. Alabama's controls and motors had been stripped out to build Pacific Electric steeple cab 1599, which suited the SNRR just fine since they planned to use the parlor car as a trailer. Alabama came with unusual Hedley trucks, now demotorized. The rear Hedley truck was replaced with a Baldwin MCB, possibly to mount third rail shoes, though no shoes are visible in the few photos of this car which survive. In 1931 Alabama was lost in a tragic fire. The Hedley truck was salvaged and the pair were reunited under wooden steeple cab 404 in the mid-1930s. By 1942, 404 again rode on Baldwin 82-30A trucks, and the Hedleys had disappeared into history.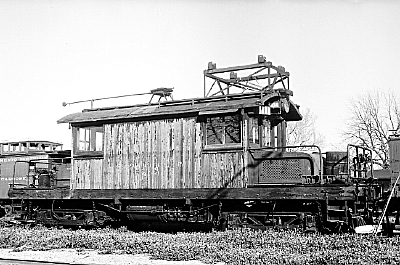 Flat motor 404 was out of service on the Chico deadline in the mid-1930s.
Note the odd Hedley trucks, salvaged from parlor car Alabama after her
loss to fire in 1931. Locomotive 404 returned to service in 1942 on Baldwin 82-30As.
Kenneth C. Jenkins photo; Garth G. Groff collection.
The Oakland, Antioch & Eastern/San Francisco-Sacramento standardized on Baldwin 79-30B MCB trucks for nearly all their passenger equipment, with the exception of three 1201-class steam-road trailers which were never modernized. These trucks were purchased at a bargain price around 1912 from the bankrupt Ocean Shore Railroad when that line dropped plans for electrification.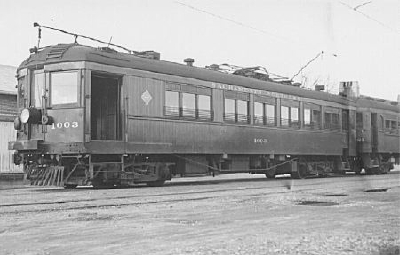 Baldwin 79-30B MCBs were OA&E's standard truck, displayed by Holman-built
combine 1003 waiting to depart Marysville with a Hall Scott trailer. The Baldwin
trucks came from the failed Ocean Shore Railroad, and were in near-new condition.
Garth G. Groff collection.
The two original Oakland & Antioch combines, 1001 and 1002, were delivered on Brill 27 MCB-1 model trucks with a 6-foot wheelbase. Combine 1002 kept its Brills until scrapped in 1941. However, 1001 lost its pair to a set of Baldwin 79-30B trucks, probably in 1913 when this car was lengthened from 45 to 56 feet. The Brills did not reappear under any other OA&E equipment.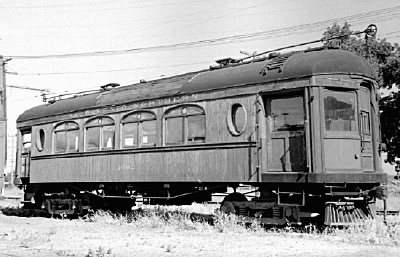 O&A combine 1002 remained in more-or-less original condition until
scrapped in 1941. The car still rode on its original Brill 27 MCB-1 trucks.
Looking very shabby, the motor was stored at Chico during its last years.
Kenneth C. Jenkins photo; Garth G. Groff collection.
There is some speculation that box motor 101 (later SNRY 601) also had Brill 27s when built, since it was shown this way in the American Car Company catalog. All known photos show the box motor riding on Baldwin 79-30B MCB trucks. Like most OA&E cars, 101 was probably purchased as a body only, delivered on temporary arch-bar trucks, and had Baldwin MCB trucks applied by the railroad. The line's other original box motor, Holman-built 102, always rode on 79-30Bs.

Two sets of massive 8-foot wheelbase Brill 27 trucks which were retrofitted to SN cars. The first set was probably purchased for test purposed sometime in the 1920s. These trucks replaced 79-30B trucks under parlor car Sacramento. Unlike Bidwell after her unfortunate truck swap, Sacramento looked good on the Brills, which were in proportion to the massive car.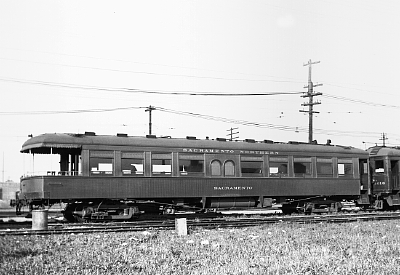 Originally equipped with Baldwin 70-30B MCB trucks, parlor car Sacramento
received a pair of 8-foot wheelbase Brill 27 trucks in the early 1930s.
Kenneth C. Jenkins photo; Garth G. Groff collection.
Shortly after great merger of January 1, 1929, the Sacramento Northern Railway briefly contemplated buying new steel cars to replace their aging wooden fleet. The only concrete result of this plan was a second pair of 8-foot wheelbase Brill 27 trucks. These were slid under Hall Scott motor 1020, and the car operated with them until 1938. With the opening of the San Francisco Bay Bridge, lead cars were equipped with automatic train control, which was designed to mount on the Baldwin MCB trucks. Motor 1020's Brills were swapped for Baldwin MCBs from trailer combine 1026. The motors stayed with 1020. Coach 1020 still rides on these trucks today at the Western Railway Museum, though they were again demotorized during the car's later days as a maintenance-of-way car. Combine 1026 finished its days on the demotorized Brill 27s.

When it came to off-the-shelf freight locomotives, the SN and predecessors generally left the trucks pretty much as they came. OA&E's small Baldwin steeple cabs 103-104 (later SNRY 603-604) rode on Baldwin standard rigid bolster freight motor trucks. Passenger locomotives 105-106 (later SNRY 605-606) came with very unusual Baldwin 122 CCI high speed four-wheel trucks with pony wheels. In 1924, the SF-S rebuilt 105, removing the pony wheels and giving the motor an absolutely unique appearance (as well as a very rough ride). Mercifully, they left 106 as Baldwin intended.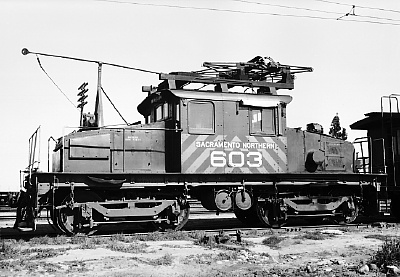 SN steeple cab 603 rode on Baldwin rigid bolster freight trucks, standard
for most Baldwin freight motors, though there were many variations. Similar
trucks on Pacific Electric's steeple cabs, for example, had curved equalizers.
Kenneth C. Jenkins photo; Garth G. Groff collection.
Baldwin locomotives purchased by the SNRR, 1040-1042 (later SNRY 440-442), and the final pair acquired by the SNRY, 1060-1061 (later SNRY 660-661), all rode on Baldwin rigid bolster trucks.

The first General Electric steeple cab, SNRR 1030 (later SNRY 430), came equipped with GE RM63B trucks. The last electric locomotive SNRY purchased, 670 (ex-Tidewater Southern 106) also used these trucks. The other GEs, which became SNRY's 650 class, all used GE 105A trucks.

The second (and last) major change to the locomotive trucks happened in the waning days of SNRY's electric freight operation. In the mid-1950s as electric operation wound down, 670 was placed in storage at Sacramento, to be held in reserve at the WP shops in case of a major emergency. Sure enough, 654 toasted its motors in 1956. This should have been the end of 654, and plans were made to bring 670 back to service instead. Unfortunately, some railfans from a well-known traction museum had been allowed by a local WP official to "salvage" 670s controller and brake stand. The quickest solution was to jack up both motors and swap their trucks. This was the end for 670 and it was sold for scrap. SN 654 still rides on 670's RM63B trucks at the Western Railway Museum.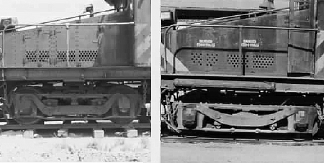 SN 650 motors were originally built with GE 105A trucks, as seen here on
652 at Rio Vista Jct. (left). Compare with with 654's GE RM 63B truck (right),
photographed while the locomotive was still in service at Yuba City during 1961.
Both photos by Robert A. Campbell, Sr.