PASSENGER TRAILERS ON THE SACRAMENTO NORTHERN
Updated and corrected November 24, 2011
Unlike many other interurbans where trailers saw little use, the Sacramento Northern and its component lines successfully incorporated trailers into their operating plans almost from the beginning. In fact, trailers were so successful that many were still running at the end of SN passenger service in 1941.
NORTHERN ELECTRIC TRAILERS
The Northern Electric Railway was at first slow to add trailers. The original operating scheme saw the line as more of a country trolley joining the small cites of the upper valley, and single cars were sufficient for this type of service. The first interurban cars purchased by the NERY were all powered: three Niles combines, three more Niles coaches, and three Cincinnati combines. However, in 1907 the operating plan had grown to include high speed, multi-car trains linking the upper valley with Sacramento, and trailers became an important part of this expanded scheme.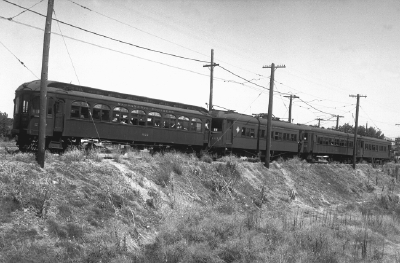 The flat country north of Sacramento was perfect for trailers.
SN 222 was at the rear end of a four-car excursion train of
mixed North and South end equipment at Marysville in 1938.
Wilbur C. Whittaker photo; Garth G. Groff collection.
The NERY's line passed through nearly flat countryside which was perfect for trains with trailers. The only significant grades were short, such as the bridge approaches to the Feather River crossing between Yuba City and Marysville. Most powered cars were equipped with four Westinghouse 90-horsepower 121A, or 100-horsepower 333 motors. These motors were more than adequate for a powered car to pull one trailer, and sometimes two powered cars dragging three trailers. A few photos survive showing one powered car with two trailers. This was probably not typical, and may have seriously taxed the motors. It almost goes without saying that even one trailer reduced the speed and acceleration of a train.

The NERY's first trailers were something of an accident. In 1906 the Philadelphia & Western Railway had purchased a fleet of twelve powered coaches and four trailer coaches from St. Louis Car Co. These cars were rejected as unsuitable by the P&W, and all were resold to the United Railroads of San Francisco for use on their San Mateo Line. While in transit, the URR resold the trailers to the NERY. As NERY 250-253, they saw between four and six years of mainline service as trailers before being rebuilt into powered combines by the Mulberry shops.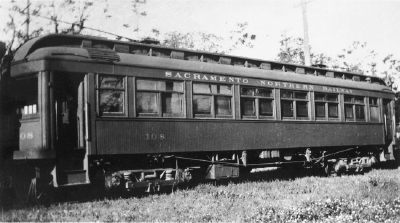 Coach 108 gives us some idea of how the St. Louis trailers
originally looked. Rebuilt first as a powered combine, then
again as a coach for use on the Meteor, the car was out
of service and stored at the Chico yard by the mid-1930s.
Garth G. Groff collection.
Trailer 253 was the first to be rebuilt in November 1910. It became NERY 106, and saw frequent mainline service. It was also used on the Colusa Branch. The car ended its days as a locomotive on the Vacaville Branch in the 1930s. Trailer 252 was next, emerging as subsidiary Sacramento & Woodland Railroad #1 in June 1912. In 1915 this motor became NERY 108. It was returned to a straight coach configuration as a powered car in 1925, and saw regular service on the Meteor until retired in the mid-1930s. Next up was 251, which became subsidiary Marysville & Colusa Railroad #10 in July 1912. It was subsequently renumbered NERY 109, and eventually became the regular Colusa Branch car. Trailer 250 was the final car of the class to be rebuilt in November 1913, becoming NERY 107. It was most famous for service on the Oroville Branch where it later operated as a one-man car with folding doors. Both 107 and 109 were still regularly used until the end of passenger service. Despite the short time these four cars were trailer coaches, they apparently were quite successful.

In 1908, the line purchased ten additional non-control trailers from Niles Car Company to cover expanded multi-car trains on the mainline between Chico and Sacramento. These stately cars had Niles' obligatory five-window ends, arched side windows with art glass in the upper panels, and more art glass panels on the ventilator windows of their clerestories. They were numbered 220-229 and were a visual match for the NERY's earlier Niles combine and coach motors. The NERY trailers cars were apparently an off-the-shelf design, since Niles also built nearly identical cars for the Napa Valley Route.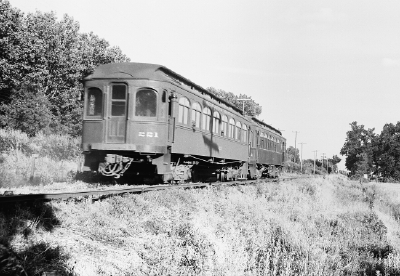 Near the end of its life, SN 221 was still in near as-delivered
condition. On May 18, 1940, the car was tacked on the rear
end of a typical Woodland local near Vin behind SN 101.
Wilbur C. Whittaker photo; Garth G. Groff collection.
This group of cars had long and distinguished careers, serving to the end of SNRY passenger service, though some went through significant changes. Trailers 227 and 229 were rebuilt as combination motors 131 and 132 in 1919. Also in 1919, 225 was rebuilt after a collision. The car remained a trailer coach, but received a rounded observation end, and her restroom was moved to the center of the car. See our story SACRAMENTO NORTHERN PARLOR CARS for a photo and more history of this unique car. Cars 222, 224, 226 and 228 were rebuilt in 1930 as 600/1200-volt control trailers for through service to Oakland. They received window bars, controls and jumpers, roof trippers, pilots, plus bells and whistles. The controls came from former 1201-series cars which were downgraded to plain trailers at the same time. The four Niles cars were no longer compatible with 600 volt North End cars, and were restricted to South End service, or on Chico trains with other South End equipment. Trailers 220, 221 and 223 remained as originally built, serving out most of their lives as second cars on North End trains, including the Woodland locals where 221 and 223 were regulars. There is photographic evidence that 223 made at least one run through to Oakland with a 1003-class motor, however this certainly wasn't common.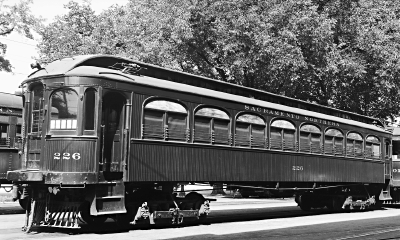 SN 226 was rebuilt in 1930 at Chico for direct San Francisco
service. Changes included controls, pilots, and window bars.
Kenneth C. Jenkins photo; Garth G. Groff collection.
Baggage trailers were a rarity on most interurban lines, but the NERY had one. It was originally built for the Pennsylvania Railroad in 1895, coming to the NERY in 1907. As NERY 90, the car carried baggage, express, and milk cans, and was usually attached to the rear of regular passenger trains. It was apparently less than successful and was withdrawn in 1912. In partnership with Pacific Gas & Electric Company, the baggage car was converted to a rolling display car to promote rural electrification by showing off the latest electrically-powered farm machinery and household gadgets. The car toured various fairs and community celebrations throughout Northern California for several years. Around 1918, this car became Sacramento Northern Railroad MW 910, a kitchen car, and served in that lowly task until scrapped in 1947.

The peak year for NERY trailer cars was 1910, when the line rostered 12 passenger trailers and the one baggage car, versus 15 powered cars. By 1919 the total had fallen to just eight trailer cars, all Niles coaches. All six missing trailer coaches had been rebuilt as powered combines to meet increased traffic, especially on the branches. Only the experiment with the baggage car could be considered a failure.
OAKLAND, ANTIOCH & EASTERN TRAILERS
The Oakland, Antioch & Eastern made even greater use of trailers than the NERY. In fact, trailers were the centerpiece of the railroad's operating plan almost from the start. In order to survive, the OA&E had to offer better Oakland to Sacramento service than the competing Southern Pacific. Their initial plan called for two train sets composed of three or four all-steel coaches, drawn by high-speed electric locomotives 105 and 106.

The service was covered by eight all-steel 59-foot trailer coaches built by the Hall Scott Motor Car Company of Berkeley. The Hall Scotts were delivered in 1913 as OA&E 1019-1026. For maximum flexibility, they were equipped with Westinghouse 15A2 controls at the factory, and had headlights, jumpers, bells and horns for use as non-powered lead cars.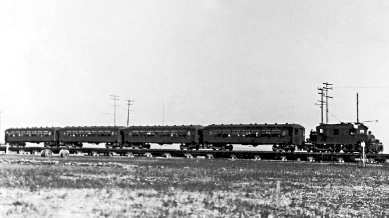 A 105 class motor leads four Hall Scotts across the delta north
of Chipps during the early years. Locomotive-powered trains
lasted only a short time on the OA&E, but after 1915 the
Hall Scotts were regularly used behind 1003-class motors.
Garth G. Groff collection.
Locomotive-hauled trains lasted less than three years. In 1915, the Key System complained that the 62-ton motors were shaking their Oakland ferry pier to pieces. The locomotives were banned from the pier, and subsequently regeared for freight service. As a substitute, Hall Scott trailers 1019 and 1020 were motorized in 1915, with 1026 following in 1916. The cars were fitted with four 120-horsepower Westinghouse 322E motors. The other five Hall Scott cars, 1021-1025, remained trailers for the rest of their days. The powered cars and trailers eventually served both sections of the merged Sacramento Northern until the end of passenger service. For a more complete history of this class and their subsequent fates, see our story THE TALE OF HALL SCOTT MOTOR 1020.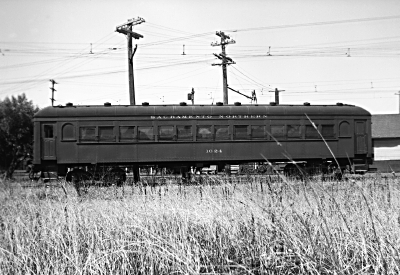 Coach 1024 was little changed after 37 years of service when
photographed in 1940. Hall Scotts were used on both express
trains and locals, and operated all the way to Chico after 1929.
Kenneth C. Jenkins photo; Garth G. Groff collection.
Although the OA&E's passenger motors were much more powerful than those of the NERY, they still could generally handle only one trailer coach apiece. The limiting factor was the 4.2 percent grade east of Oakland. Curiously, braking for westbound trains on this grade demanded that most trains have at least two cars to prevent run-aways, and trailers were an economical solution to this problem. Thus two-car trains were necessary in either direction, regardless of how empty they might be. Later a few motors were fitted with special magnetic track brakes for single-car operation.

Almost unnoticed in SN history were two wooden combine trailers from the 1003 class. Originally there were 16 cars in this class, purchased in four-car lots from Holman and Wason, with two more four-car lots coming from Cincinnati Car Co. The Cincinnati cars, at least, were delivered as unpowered bodies, and were equipped by the OA&E with Baldwin 79-30B trucks, Westinghouse HL controls and Westinghouse 322E motors. Their trucks and motors came from the failing Ocean Shore Railroad, but there weren't quite enough motors to go around. Two bodies from the second group of Cincinnati cars, 1017 and 1018, initially were not powered or given controls. Car 1017 received motors and controls in 1915 to operate on the Dixon Branch. This left 1018 as the sole trailer from this group. It did receive controls in 1914, but remained unpowered. In 1928, the trailer swapped numbers with Hall Scott motor 1026, which tidied up the roster by keeping all the motors in one block.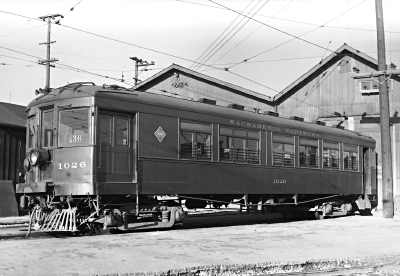 Trailer combine 1026 was more or less unique among SN passenger
equipment. Note her Brill MCB 27 trucks in this view at Oakland.
Kenneth C. Jenkins photo; Garth G. Groff collection.
In her last years of service, 1026 (2nd) rode on a pair of Brill 27 MCB trucks. These trucks were purchased for testing in 1929 when the newly-merged SNRY considered replacing the wooden fleet with new steel Pullman and Brill train sets. Depression-era reality set in, and the proposed cars were abruptly dropped. The Brill trucks were under motor 1020 as late as September 1937. In 1938, all the Hall Scotts and 1003-class motors were shopped to install cab signals and automatic train control (ATC) equipment for service across the Oakland Bay Bridge to San Francisco. The ATC equipment was designed to be mounted only on Baldwin 79-30B trucks, so the Brill trucks on 1020 were demotorized and swapped for the Baldwins under trailer 1026. Those Brill trucks were still under 1026 when it was scrapped at Chico in 1941.

Trailer 1026 found a special niche on the Concord local trains. Since there was no wye or loop at Concord, trains terminating at this important city ran in "push-me, pull-you" fashion. Trailer 1026 was usually found on the Oakland end, with a Hall Scott or 1003-class motor facing Concord. When service began across the Oakland Bay Bridge in 1939, westbound Concord locals with 1026 in the lead were turned at the 40th & Shafter yard to put the ATC-equipped powered car on the San Francisco end.

OA&E owned a third group of trailers, the 1201-class, which were a motley group of cars acquired from various sources. Cars 1201-1206 were 1880-vintage coaches from the Southern Pacific's Oakland steam commuter operations, which were made surplus by electrification. They were picked up by the OA&E in 1913, and went into service initially with no changes except replacement of their coal stoves with electric heaters. Three cars, 1202-1204, were improved in 1919 with enclosed platforms, Baldwin 79-30B trucks, Westinghouse HL controls, headlights, bells and horns. At that time, these three cars also lost their clerestory roofs. The remaining cars in this group, 1201, 1205 and 1206, were not rebuilt.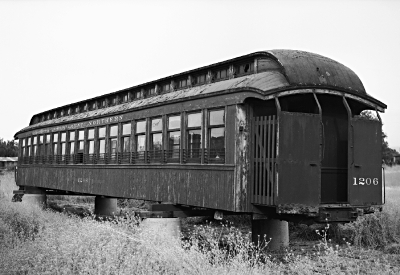 Definitely not the SN's best effort, trailer 1206 was typical of the
unrebuilt ex-SP coaches. The hulk was scrapped at Chico in 1938.
Wilbur C. Whittaker photo; Garth G. Groff collection.
The ex-SP cars were arguably the worst cars in the OA&E fleet. They were uncomfortable, dark, with ugly wooden gates across their steps, and must have seemed little better than cattle cars. Most saw little use except for emergencies and picnic excursions, though riding in one could hardly have added to the pleasure of a weekend outing. After rebuilding, 1202-1204 were used on Concord and Pittsburg locals, but were still unpopular. Around 1930, 1205 and 1206 lost their control to two of the Niles trailers mentioned above, and reverted to being plain trailers. As business dropped off in the 1930s, most of class were mercifully (for passengers) set aside at Chico, with 1204 being the last in service as late as 1939. Trailers 1202 and 1203 were sold to Diamond Match Co. for in-plant use in 1941. As DM 20 and 21, they shuttled around the Barber (Chico) mill with loads of shook, eventually being cut down to flatcars and finally scrapped in 1947.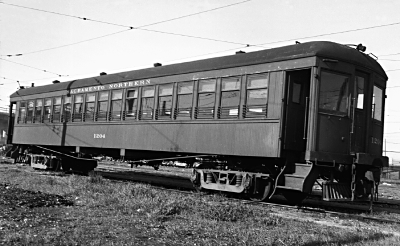 The last of the ex-SP cars in service, 1204 shows how they looked
after rebuilding. The arch-roofed trailer was taken out of service
in 1939, shortly after being photographed in the Oakland yard.
Wilbur C. Whittaker photo; Garth G. Groff collection.
The great Pennsylvania Railroad contributed trailer coach 1207. This car dated from 1890, and came to the OA&E in 1916 (or the SF-S in 1920, sources vary). It was similar in condition, and in popularity, to the deplorable ex-SP cars previously described. It was finally scrapped at Chico in 1938.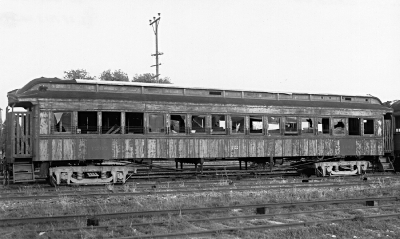 Coach 1207 was found at Chico just before scrapping in 1938.
Like the ex-SP cars, the ex-PRR coach was among the shabbiest
and most uncomfortable trailers on the entire SN roster.
Wilbur C. Whittaker photo; Garth G. Groff collection.
Much more successful, and comfortable, were three cars which came to the San Francisco-Sacramento Railroad from the Ocean Shore Railroad in 1923. These were closed-vestibule 52-foot Holman interurban coaches of 1907 vintage. Originally they were intended as motors, but were left unpowered by the OSRR which never had the cash to electrify most of their line. The SF-S used them as control trailers, and numbered them 1208-1210. In the mid-1920s, 1210 was lengthened to 63' 7", and seating jumped from 58 to 74. It was frequently assigned to the so-called "school trains", regular morning and afternoon trains that provided extra cars for school children in Contra Costa County before buses skimmed off this traffic. In 1930, 1208 and 1209 gave up their controls to equip two of the Niles trailers for through service, and then spent the rest of their lives as plain trailers. All three Holman cars lasted until the end of passenger service, with 1209 and 1210 being scrapped at Chico in 1941. Trailer 1208 was sold to Diamond Match as their 22, and like the two other trailers sold to that company, was scrapped in 1947.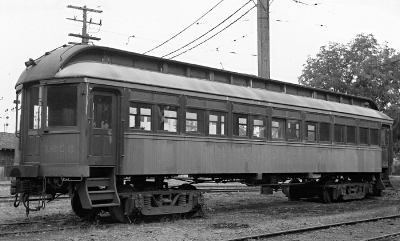 Holman-built 1208 was one of three trailers the SF-S bought from
the Ocean Shore Railroad in 1923. These were regularly on locals.
Although they had controls, these cars were rarely used in the lead.
Wilbur C. Whittaker photo; Garth G. Groff collection.
The peak year for OA&E trailers was 1914, when there were 16 trailers versus 15 motors (parlor cars added one additional car to each category, but they are not being considered in this story). Like the NERY, changing conditions on the OA&E caused some trailers be motorized to meet additional service needs. The SF-S continued adding to the trailer fleet in the 1920s, finding them an economical solution to traffic demands.
---
Some of the information in this story came from Ira Swett's CARS OF SACRAMENTO NORTHERN, and SACRAMENTO NORTHERN (1949 edition). Full citations may be found in our bibliography section. Additional information came from Robert A. Campbell, Sr.