REQUIEM FOR SACRAMENTO NORTHERN 145
Updated and corrected 15, 2009
A sad report opens this update. During 2008 the oil in one of ex-SN 145's engines went low, and the engine seized. Owner Champaign Landmark, Inc. decided it was time to retire the locomotive in favor of a Trackmobile. The 44-tonner was sold to Western Star Rail Services of Newark, Ohio, who chose to scrap the locomotive for parts.

The consolation is that the Western Railway Museum was able to buy a number of parts from ex-SN 145. Their haul included trucks with wheels, radiators, the one good engine/generator set, and some other useful stuff. According to the WRM's Joel Cox, the parts will be used to restore sister SN 146 to operating condition.

One of the most exciting pieces of Sacramento Northern news in 1998 was the rediscovery and return to service of General Electric 44-tonner SN 145.

In 1998 the Shepard Grain Company, an elevator company in West Liberty, Ohio, was in need of a larger locomotive to supplement their Whiting Trackmobile. Their employee, Scott Trostel, located a surplus 44-ton GE at the Cargill plant in Lima, Ohio. The locomotive, Cargill number 3, had been out of service for several years with a cracked cylinder casing and several other problems, but to Trostel the engine looked restorable. On September 16, 1998 the deal was closed, and Shepard Grain became the new owner of the venerable locomotive.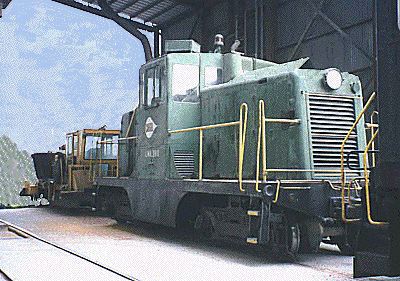 Former SN 145 was still in possession of Cargill in Lima, Ohio,
when this photo was taken in October 1998. Note that
the unique SN number box is still welded to the cab roof.
Scott Trostel photo.
According to records held by Cargill and General Electric, the locomotive was ex-SN 144. It had been sold in 1971 by the SN to Chrome Crankshaft, a locomotive dealer. They resold it in 1974 to the Northwest Oklahoma Railroad where it was variously reported to be renumbered 2 or 7. In the early 1980s, the engine was owned by Westmac Grain Co. of Newaygo, Michigan. Cargill acquired it sometime after Westmac went out of business about 1985, and used it for several years in Lima. Trostel was sure at that point he had ex-144, due to the GE records and a parts catalog that had come with the 144's serial number on the cover. Unfortunately, this history did not square with Joseph Strapac's authoritative roster in Western Pacific's Diesel Years. Strapac lists Texas Railcar as ex-144's only owner after Chrome Crankshaft. Identification of the locomotive might have been easy if the builder's plates were still on the locomotive, but they were long gone. Even serial numbers had been ground off the frame in some long-ago shopping.

With set up finished, the locomotive left Cargill Friday, November 13th. It was deadheaded over the Indiana & Ohio Railway with Trostel riding in the cab for part of the trip. Two stops for inspections were made without finding any problems. The locomotive was at last delivered to Shepard Grain on Monday, November 16th.

During preparations to get the locomotive into operating condition at West Liberty, Trostel began to find evidence that the unit was actually ex-145. While poking around in the roof-top number box, he found the stencils for 145 (along with 20 years worth of rotten grain). Further evidence surfaced a few days later when he discovered a copy of a Federal Railway Administration report behind the electrical cabinet in the cab. The paperwork was dated April 6, 1974 (apparently done when Chrome Crankshaft prepped the locomotive for sale to the Northwest Oklahoma Railroad) and definitely listed the number as 145. Final confirmation came when Trostel found the number "145" on the inside of the cab under several layers of peeling paint (he reports that the original interior paint was dark green). It seems that the identity crisis began when the Northwest Oklahoma Railroad took delivery of the locomotive, probably reporting the wrong number to GE based on the errant parts manual. Trostel has promised to help GE straighten out their records.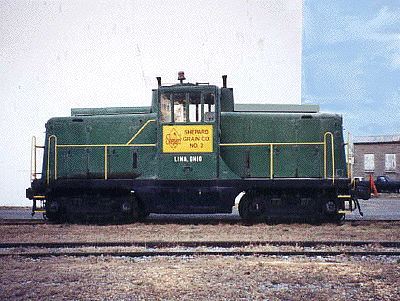 Now sporting new lettering, Shepard Grain Co. #3 awaits the deadheaded
move to her new home in West Liberty in early November. The traction
motors still lacked pinions, along with other problems from long
storage, so the locomotive could not operate under her own power.
Scott Trostel photo.
Over the next couple of weeks, Trostel and others worked to get the ex-145 into running condition. Traction motor shaft bearings and pinions were replaced, and much other electrical work was done. Since one of the two diesel engines was still down, it was decided to temporarily power all four traction motors from one generator in a method called "truck series, generator parallel wiring". This required some new cabling, as well as changes to the cab electrical wiring. By early December, the aged locomotive was back at work, shuffling covered hoppers between the I&O interchange and the loading shed. A search continues for parts to repair the second diesel which would allow the locomotive to run at full power.

Shepard Grain Co. management seems very pleased with their new locomotive and hopefully will get many more years of service from it. According to Scott Trostel, former SN 145 was operating with two diesel engines again in 2002. A D-17000 diesel-generator set was salvaged from Springfield Suburban Railroad 511. The equipment was changed out by two people in just four hours during August 2002. The old diesel engine and generator will be kept in storage for parts, as these are long out of production.

On October 30, 2003, Champaign Landmark, Inc. purchased the Shepard Grain's West Liberty elevator, including ex-SN 145. As of early 2008, the 44-tonner was still at work for the new owners 42 years after the little locomotive rolled off General Electric's production line.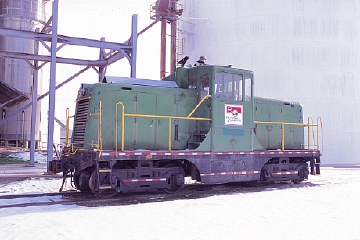 Now operated by Champaign Landmark, Inc., ex-SN 145 continued to serve in 2008.
Sandy Burton photo.
---
The original information for this article was supplied by Scott D. Trostel through correspondence with your editor. The most recent information is courtesy of Sandy Burton.