DON OLSEN'S PRIZE-WINNING PARLOR CAR
Updated and corrected November 26, 2011
Long-time Sacramento Northern fan Don Olsen's exquisite kitbashed model of parlor car Sacramento won the Best in Show prize at the O-scale West meet in 2009.

When Don began his model, he initially worked from a large scale drawing of Sacramento. The drawing proved to be inaccurate, and Don was forced to rely on photos of the car for the placement of many details. The roof was particularly vexing, since overhead shots of the car are practically non-existent. Fellow SN fan Jim Bond assisted with photos and information on the windows. Former Western Railway Museum archivist Bart Nadeau provided historical data from the museum collection.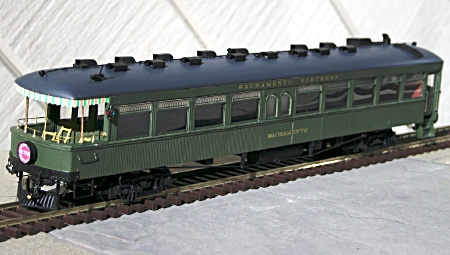 The O-scale model of Sacramento was a multi-year labor of love for Don Olsen.
Steven Colby photo; courtesy of Donald L. Olsen.
The model was spliced together from two Ken Kidder Cincinnati combine bodies. Don discovered that the models' window sections were three inches too wide. This would have added three feet to the car's length, so he cut the sides into sections and removed excess material from the pier panels between the windows.

Many commercial parts were used on the model, but often adapted. The handrail stanchions are HO-scale pieces, which are much closer to O-scale. Bases for the observation platform posts are actually model ship bollards. The Brill trucks were built with parts from three separate pairs of different manufacture to capture the correct SN details. They are only seven feet in length, since the prototype's rare eight-foot trucks are not available commercially. The trucks feature intricate pick-up shoe details which Don scratch-built. The roof vents were cast by Dennis Mashburn from a pattern supplied by Don.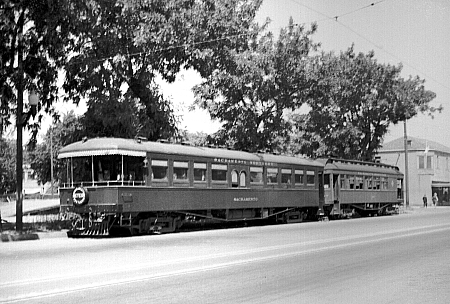 Sacramento was in an unusual location on June 16, 1940 when a BAERA charter
brought the car to Colusa behind combine 109 on the regular Colusa local.
Kenneth C. Jenkins photo; Garth Groff collection.
The car was painted and lettered by Bruce Battles. The awning colors remained one of the last problems to be solved, since color photography was very rare during the car's lifetime. Bruce remembered seeing a piece of SN awning cloth in the collection of the late John Gerard Graham. The colors were orange, green and white. Bruce did not know for sure which car the awning came from, but he and Don made the reasonable assumption that all the cars used the same awning cloth. Bruce had his son print on 0-scale version on his computer which was glued to the model after it was painted.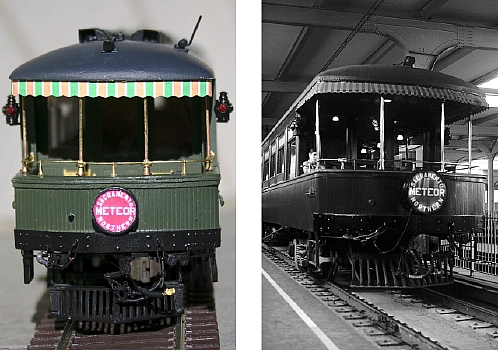 Don Olsen's model side-by-side with the prototype invites comparison. The real car was
photographed at San Francisco's Transbay Terminal awaiting departure an excursion, but is undated.
(Left) Steven Colby photo, courtesy of Donald L. Olsen. (Right) Wilbur C. Whittaker photo; Garth G. Groff collection.