ELECTRICITY SOLVES TRANSPORTATION PROBLEM
Northern Electric Railway a Great Factor in Upbuilding of Sacramento Valley
One of the Longest Interurban Railroads in the United States
Editor's note: The following article is taken from a promotional press release. It was laid out in journalistic style, and makes up the bottom half of what appears to be a newspaper page. Another promotional piece touting river transportation and farming is on the reverse side, suggesting this might have been a county fair give-away or similar hand-out, rather than an actual newspaper page.

No publication date is given on the piece. Service to Sacramento began in September 1907, which suggests it may have been issued in the summer of that year. On the other hand, the text mentions six home-built passenger cars, which were constructed in 1909. It is possible that the piece was actually reissued and updated at various times, with sloppy copy editing.

The original text is quite unweildy, with some breathy sentences of 80 or more words. I have taken the liberty of some edits to make the story easier to read. A few sentences have been moved to other paragraphs where they were more relevant. The original article included two photos, both too poor to reproduce. Instead, I have substituted several early photos from my own collection.
---
For many years past the people residing in this section of the country have been anxiously awaiting some means of transportation which would bring into closer relations the various cities of the northern portion of the state than existing rail facilities furnished and with the further idea in mind of the development of the many industries which were impracticable unless brought in closer proximity with the railroads.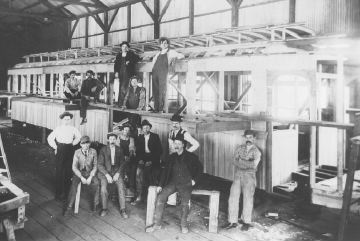 The Northern Electric's Mulberry Shops in Chico turned out six Niles-copy
handsome passenger-baggage combines in 1909. Numbers 125-130 originally had
arched windows down their entire length, with one section replaced by a baggage
door. The windows across the baggage sections were later filled in with siding.
Garth G. Groff collection; courtesy of Mrs. Bert Pingree.
Various roads, at one time and another, planned lines and the people still continued to hope. [Then] representatives of the Northern Electric Company appeared in a number of the cities of this section of the state and applied for franchises for the purpose of operating an electric railway system of standard gauge and of the most modern type. These franchises were granted, but the wise ones still shrugged their shoulders and did not believe that the promised relief would come, especially not in the comparatively short time promised. However, they were doomed to agreeable disappointment, for practical railroad and business men were behind the project. [These business men] had gone into it with a fixed determination of pushing to an early completion and extending the system in all directions until a veritable network of lines should cover the northern half of the state and make it possible to ride from one city to another in the shortest possible time and with ease and comfort, and to handle all freight, express and baggage.

Shortly after the preliminary arrangements had been completed actual work of construction was started on the road between Chico and Oroville (to be exact, in October 1905) and the line was opened for traffic the following April, a distance of 24.6 miles. November 1 of last year the road was also operating over the line to Marysville, 29.2 miles, and at this writing is about completed into Sacramento, and additional distance of 41 miles. Other lines projected are from Chico to Hamilton, 11 miles, and from Chico to Red Bluff, 41.7 miles; also from Yuba City to Colusa, passing through Meridian, 21.6 miles. It may be readily seen that this system is a most important factor in the rapid upbuilding and development of Northern California, and will also have a very material bearing upon the freight and passenger traffic of the West. The company is provided with ample capital with which to carry out the plans outlined, being capitalized for $6,000,000. The officers are all men well known in the business and financial world, and those in active charge of the construction and operation of the system are are practical railroad men. They are: Henry A. Butters, president; Louis Sloss, vice-president; Norman Logan, secretary; A. D. Schindler, general manager; H. L. Gibson, auditor; E. S. Dimock, superintendent; J. H. Bennett, general freight and passenger agent; C. S. Compton, chief engineer; J. P. Edwards, electrical and mechanical engineer. Messrs. E. R. Lilenthal, E. J. DeSalba, and W. P. Hammon are directors.
Northern Electric's original Sacramento depot was located at 8th and J Streets.
By the 1920s, the building was remodeled in the mission style of other NE depots.
Garth G. Groff collection.
The entire system, with the exception of within the city limits of the cities through which the road passes, is operated by direct current with the third rail conductor, carrying a current of 600 volts. Power is obtained from the Valley Counties Power Company, in alternating current, transformed to 600 volts direct current in the Northern Electric Company's sub-stations. The roadbed is as fine as that of any railroad in the country, and the entire equipment is of the very latest pattern, the passenger cars being of the standard Pullman type, although some of them are combination passenger, baggage and mail cars. When the system planned is in operation, hourly trips will be made daily between terminal points, making the service equal to the old established lines of the East. Trains will be operated, instead of single cars as at present, and exceptionally fast time will be made. The car shops of the company are located at Chico, and while not as large, are as complete and modern as any of those of the larger steam systems. About 200 men are given employment in the shops alone, and 1,500 on construction work, so that the company is contributing largely to the general prosperity of Northern California in general, and the various cities touched by the system, in particular, outside of benefits accruing from bettered transportation facilities. As an evidence that the road contemplates transacting a large amount of business may be cited the fact that seventeen standard passenger cars have been purchased in the East, in addition to the six built at the company shops. Three of them are combination passenger and baggage cars. All of them are equipped with steel underframing and standard Baldwin trucks. The multiple unit control permits operating one car, or a train with any number of cars, using the power of all motors on each car. The city lines of both Chico and Marysville are equipped with strictly modern semi-interurban cars of the San Francisco and Los Angeles type.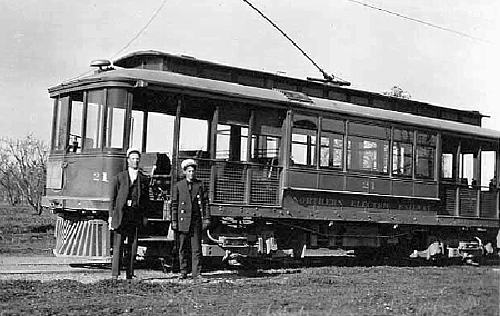 A pair of Los Angeles-style streetcars numbered 21 and 22 were inherited
from the Chico Electric Railway. Four more cars were added by the NE for
local service in Sacramento, and between Yuba City and Marysville. Most were
rebuilt as "Elverta Scoots" for suburban service north of Sacramento in the 1920s.
Garth G. Groff collection.
Two electric locomotives have been constructed at the company's shops, all with steel locomotive trucks, Westinghouse 90-horsepower motors. Another locomotive has been built in the shops, of wood construction, with the exception of the trucks, etc. One small locomotive for construction work is equipped with 88 horsepower motors. [There are also] three Baldwin steam locomotives for construction work.

The freight equipment is all of the best modern standard. Cars are designed for a capacity of 80,000 pounds, and a sufficient supply of all kinds, including flats, boxes, ballast and construction cars, has already been purchased to enable the company to handle satisfactorily any type of freight traffic offered. Cars are equipped with all improved modern appliances, including automatic air and Master Car Builders couplers. The company also has a number of what might be termed miscellaneous cars, consisting of wrecking cars [with] 15-ton cranes, jacks, tools, etc., [a] tower car, [and] water cars. All cars are standard gauge.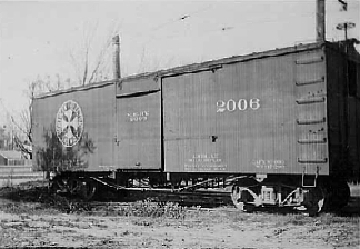 The NE purchased a small fleet of 50 boxcars and some 170 flatcars. They
came from Fitzhugh-Luther Co. of Hammond, Indiana, in 1907. With truss rods,
wooden underframes, and K brakes, they were soon obsolete by industry
standards, but gave adequate service, with some lasting in MW duty until the 1960s.
Garth G. Groff collection.
Two portable sub-stations have been constructed on flatcars so they they may be moved from point to point. However, they are complete in every respect, and as comfortable as though permanent. They have proven highly satisfactory, and one more will be built shortly.

Taken altogether, it may be seen from the foregoing that the Northern Electric Railway is even now, before its system has been entirely completed, in position to handle a large amount of business, and that when its new equipment shall have been received it will be second to none.

Mr. Henry Butters, president of the line, is a man of long and varied experience in railroad building, having built and equipped lines in South Africa, Spain, Switzerland, Mexico and other countries, all of which have proved successful in the development of their respective localities.

Mr. A. D. Schindler, the general manager of the road, has had a wide experience in the construction and operation of railroads. He has been associated successfully in the Southern Pacific, the Valley Road, the Santa Fe and later with the Pacific Electric and Los Angeles Interurban Railways of Los Angeles, two of the finest systems of interurban railways in the United States.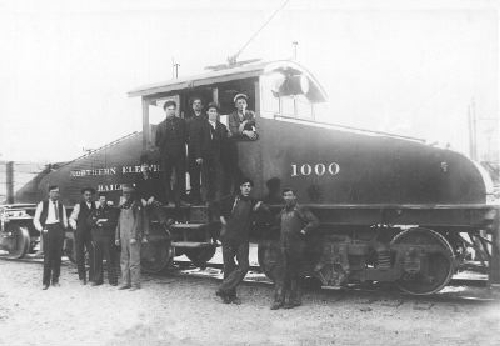 In 1906 the NE turned out two steel steeple-cab motors numbered 1000
and 1001. They were built to the same plans as Pacific Electric 1600. Motor
1001 was wrecked and scrapped in 1915, with 1000 serving the NE until 1923.
Garth G. Groff collection; courtesy of Mrs. Bert Pingree.
J. H. Bennett, the general freight and passenger agent in charge of the traffic department, is a man of extended experience in railway work generally. He commenced with the London & Northwestern Railway of England, on which line he was educated in accounting, traffic and transportation departments, and has served on several of the leading railways in the United States, viz., the Michigan Central, Baltimore & Ohio, Missouri Pacific and Denver & Rio Grande.