OSCAR'S ENGINES:
THE LOCOMOTIVES OF THE OA&E
By Robert A. Campbell, Sr.
The Sacramento Northern Railway was made up of many predecessor companies and the portion that ran through Concord began as the Oakland & Antioch Railway, or simply the O&A.

The O&A had its beginnings in Concord in 1910. The first O&A train ran from Bay Point (Port Chicago) to Concord on February 13, 1911. This first train was a single motor passenger car, number 1002. It was powered with 1200 volts d.c. provided by the Concord substation via trolley wire. In the following year, 1912, the name was changed to Oakland Antioch & Eastern with plans to build to Sacramento.

To provide freight service, a locomotive or "motor" was purchased from Baldwin-Westinghouse. The locomotive was numbered 103. It's builder's plate carried the date of February 1912. This locomotive hauled construction trains on the line to Oakland via Lafayette, Moraga, and Redwood Canyon, and through a tunnel beneath the Oakland Hills.

In February 1913, an identical locomotive numbered 104 was purchased. It was sent to Oakland to work on building the line from that end. These two locomotives each weighted 96,000 pounds, produced 480 horsepower, and rode on 42-inch wheels. They could be operated at full speed on either 600 or 1200 volts d.c.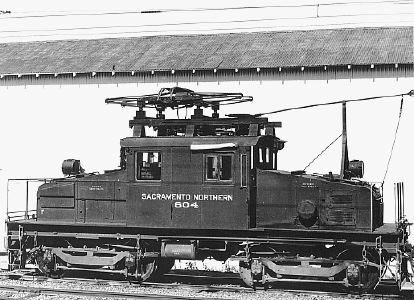 SN motor 604 was between assignments in Walnut Creek in July 1947.
Though built a year apart, and despite major rebuildings, 603 and 604 were
virtual twins. Both steeple cabs were sold for scrap at the end of 1955.
William T. Larkins photo; Robert A. Campbell, Sr., collection.
In August 1913, two more Baldwin-Westinghouse locomotives were built for the OA&E, numbered 105 and 106. These were 1000 horsepower passenger engines with special six-wheel trucks which had pony wheels to help guide them through curves at high speeds. Their original weight was 124,000 pounds. These locomotives were quite fast, to the detriment of their pulling power. Designed for operation at up to 70 miles per hour, they could haul five steel Hall Scott 37 1/2 ton coaches on level straight track at a balancing speed of 56 miles per hour at 1100 volts. Their drive wheels were also 42 inches, and the pony wheels were 30 inches.

To reach San Francisco from its terminus at 40th and Shafter, the OA&E operated over the Key System to a pier two miles out in San Francisco Bay commencing in 1912, until operations started over the Oakland Bay Bridge in 1939. The Key System ferries provided service from the Key pier to the Ferry Building in San Francisco. Beginning in 1915, the OA&E locomotives were banned from the Key pier due to their weight. These locomotives would rock the pier when coming to a stop. The concept of locomotive-hauled passenger trains was dropped. Locomotives 105 and 106 were regeared for freight service, as the OA&E by then needed additional freight engines. Locomotives 103 and 104 were always primarily freight engines. They could reach speeds up to 52 miles per hour. On weekends they handled special passenger excursions and picnic trains.

In 1920 there was another name change. The OA&E was foreclosed upon and re-emerged as the San Francisco-Sacramento Railroad. The route between San Francisco and Sacramento was a few miles shorter than the competing Southern Pacific, so the company used the slogan "Sacramento Short Line".

In 1924, the SF-SRR shopped 105, removed the special pony wheels, and added a new underframe. Removing the pony wheels increased the weight on the drive wheels from 89,000 to 116,700 pounds. This raised the locomotive's pulling power from 800 to 1000 tons, the equivalent of four to six freight cars on level track. About 1950, I observed a Sacramento Northern train crossing the flat Ygnacio Valley near what is now the Bay Area Rapid Transit (BART) shops. This train was headed by 605 with 606 pushing behind the caboose. The train was going approximately 40 miles per hour. Locomotive 605 was riding quite rough and violently, while 606 bring up the rear was riding like a Pullman, as it retained its special pony wheels. This undoubtedly was the reason 606 was not rebuilt as was 605.
SN 605 was found switching at Oakland's 40th & Shafter yard in August of 1940 .
The big motor's odd trucks and rebuilt frame are easily seen in this fine view.
Kenneth C. Jenkins photo; Garth G. Groff collection.
Locomotives 103 and 104 were shopped in 1928, and the narrow side entrance cabs were rebuilt with end doors. This increased their weight to 109,180 for the 103, and 112,400 for the 104, giving additional pulling power for freight service.

In 1929 there was again a name change. This time the San Francisco-Sacramento Railroad was merged into the Sacramento Northern Railway, along with the Sacramento Northern Railroad. The latter was the former Northern Electric Railway which operated 600 volt third rail lines north of Sacramento to Chico. This created the longest continuous electric interurban railway route in America, 182 miles between San Francisco and Chico, with branch line connections to Woodland, Colusa and Oroville. Upon merger into the Sacramento Northern Railway in 1929, the four OA&E/SF-SRR locomotives were renumbered 603-606 to avoid confusion with former Northern Electric passenger cars with the same original numbers. The former OA&E motors never received third rail equipment for operation on the former Northern Electric lines north of Sacramento.

About 1952, I was watching the afternoon Sacramento Northern freight for Oakland pass through Concord and noticed the home signals did not clear as usual, indicating a following train. So I waited to see what was coming. The following train was headed by 603 and 604. These two could operate together from controls on either engine, as they had jumper cables between them for power and control circuits. The 603 was leading and as they crossed Concord Boulevard, the pantograph on 603 went down and the train went into emergency.

The motorman-engineer was O.H. "Oscar" Schindler, a longtime OA&E/SF-S/SN employee, and was most often found operating the former OA&E locomotives on the Sacramento Northern. Upon stopping the train, Oscar stepped across from 603 to 604 and replaced a control circuit fuse. The blown fuse was tossed out the cab window. Oscar then crossed back to 603 to resume the journey to Oakland. The pantograph on 603 went up then came right back down again. Oscar crossed back again and threw a second fuse out of the window. He didn't say a word, but his expression of frustration said it all. After crossing back to 603, Oscar directed the brakeman to pull the jumper cables from 603 and they were left hanging from 604. This left 604 a dead locomotive, and no cables were attached to 603. While 603 and 604 were stopped for the blown fuses, the train of freight cars had Concord Boulevard, Willow Pass Road and Salvio Street blocked, tying up the whole town.

After the train left town, I picked up the fuses and kept them. About 1967 an SN carman gave me the motorman's toolbox from 604. I placed the burned fuses back into the toolbox. In 1993 I donated the toolbox with the fuses to the Concord Historical Society.

If I could hear an Oakland-bound train blowing its horns for the crossing at Olivera Road, I could make it on my bike to the Concord depot and substation in plenty of time to see the train. Similarly, if I could hear a train for Pittsburg at the San Miguel Road crossing, I could make it in time. I always had my bike handy!

During the Korean War, the SN sometimes operated on Sundays. One particular Sunday afternoon, I heard a train blowing for the Olivera Road crossing, so I rode down to the depot. On the point of this train were locomotives 603 and 604, trailed by ten boxcars and locomotive 606. The train stopped and 606 shoved the boxcars into a spur. 603 and 604 returned to Port Chicago for more cars, as the whole train was too much to handled over Ohmer Hill at one time. About 30 minutes later, 603 and 604 returned with about 14 more boxcars, and locomotive 605 pushing ahead of the caboose. The train was reassembled with 603 and 604 leading, 10 boxcars, locomotive 606, 14 boxcars, followed by 605 and caboose 1610. What interested me was that this train was a rare one, with all four former OA&E locos in one train.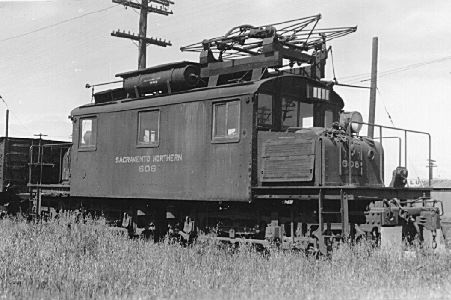 SN 606 was photographed in the days before orange tiger stripes
were added, probably in the immediate post-war years. Although 606 kept
her pony trucks until the end, she was quite different from her as-built
appearance. The air tanks had moved from the end platforms to the roof,
and a Westinghouse pantograph had replaced one of the trolley poles.
Garth G. Groff collection.
As the train left Concord, I continued to watch the home signals to see how soon they would go out. The signals at Concord should have cleared with the train passed Meinert siding, but the signals stayed lit. All of a sudden, I realized the train was coming back. Back came 603 and 604, the caboose, and locos 605 and 606, all by themselves, having left the 24 boxcars on Meinert siding. As the train came closer, crossing Clayton Road, I backed up from the tracks, as this train was moving in excess of 50 miles per hour. It was the first time I ever backed up from an SN train due to its speed. As the speeding train passed me, all I could see was one motorman-engineer. No one else was visible in the other engines. The speed limit in Concord was 20 miles per hour, and the curve at the Concord depot certainly wasn't a 50 mile per hour curve.

Many years later I told an SN employee what I had seen. He said that the boys in the caboose had a bottle and the motorman-engineer was mad because he had to be out on the point. So he "took them for a ride". Rule "G" on railroads forbids drinking or being intoxicated while on duty. I must mention that Oscar was not on duty or involved in this incident. I'm sure he would have been upset to see how his engines were being operated.

In June and July 1953, 603-606 were renumbered 643-646 to avoid confusion with WP SW-9 diesels of the same numbers that were also serviced in the WP's Sacramento shops. Locomotive 606 was sold for scrap on December 9, 1954. Locomotives 603-605 followed on December 30, 1955.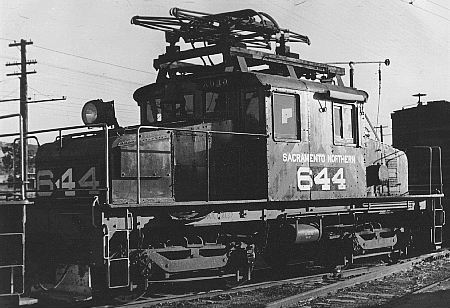 SN 644 was freshly renumbered in this July 1953 shot at Port Chicago.
The steeple cab had just over two years service left before it was scrapped.
Robert A. Campbell, Sr., photo.
---
Mr. Campbell's story originally appeared in the Concord Historical Society's Concord Historian for November 1997. Special thanks for their kind permission to reproduce it here.