SACRAMENTO NORTHERN
SCALE MODELING GUIDE
Updated February 27, 2023
ELECTRIC PASSENGER CARS
The North-end Niles cars are well represented in brass thanks to Ed Suydam. These cars were imported in substantial quantities during 1967 and 1970 and are still common on the used brass market. The models represent SN combine 126 (also suitable for 127-132 and 201 in their final form), coach 200, trailer coach 220 (suitable for 221-225, 226 and 228, though there were some detail variations), combine 125 (the so-called "Berry Car"), and parlor car Bidwell (trucks were changed to C-80-P types in 1937). The drives in these cars leave a lot to be desired and can be greatly improved with new can motors.

The Suydam brass models represent the Niles cars and their copies during
their last years of service prior to scrapping in 1941.
In 1967, Model Engineering Works imported a single run of South-end combines representing Holman-built SN 1003-1006. These cars are quite scarce and command inflated prices. They were also miserable runners, and the truck-mounted stack motor makes repowering difficult.

Model Engineering Works announced a brass version of Moraga during the 1960s. Whether this car was actually imported remains a mystery.

MTS Imports brought in a very small quantity of the Hall-Scott coaches in 1987. These were offered as powered cars suitable for SN 1019, 1020 and 1026 (later renumbered 1018), non-powered trailers which represent 1021-1025, as well as de-electrified coaches used by the WP. The WP models are convertable to the two demotorized cars used in SN maintenance service. The cars were available as separate pieces and in two-car sets. Your editor tried to obtain a set when they were first advertised, but they were apparently all reserved by then. These are among the rarest of all SN models, and are seldom found on the used market. In fact, your editor has only twice seen these models in person. Were it not for their listing in THE BROWN BOOK, most people would consider them a myth.

Labelle Woodworking Company (5101 Ridge Road, Cheyenne, Wyoming 82009-358; phone 307-433-9909) offers wooden craftsman kits for the North-end St. Louis-built cars. These are revivals of the same models sold in the early 1970s. The combine represents SN cars 106 and 109, as well as 107 before rebuilding with air-doors. The coach is a model of 108 as used on the Meteor.

The Original Whistle Stop of Pasadena, Cal., once imported models of the parlor car Alabama in its Pacific Electric incarnation. An SN version was announced, but apparently never produced.

In 2011 Bachmann imported a Birney streetcar in the original green SNRR paint scheme. It had several flaws: wrong roof color, plain bearing trucks instead of roller bearing (needed for 60-61, the only cars verified with this paint scheme), and no pole tower. Generic Birney streetcars, which can represent SN 60-68, have been offered over the years by a number of brass importers. Like the Bachmann models, none of the known brass Birney cars have been offered with pole towers.

A basement operator named Paul Moore (sp?) once offered wood and cardboard models of South-end combines in the 1950s. There may have been other models produced by small suppliers which are not generally known. Your editor would like to add any of these that can be verified to this list.
---
ELECTRIC FREIGHT LOCOMOTIVES
For years the most sought-after SN models were the GE steeple cabs Model Engineering Works imported in 1968. These models represent SN 650-654, and can be modified to represent 430 and 670 which used the same body (though without the roof-mounted air tanks). These models are fairly rare. Like the MEW combine, they are very poor runners. Your editor improved his by junking the drive and substituting two cross-wired Tenshodo SPUDs. The rebuilt engines ran about as well as a stock Athearn diesel, which was a vast improvement.

MTS Imports landed a new model of the SN 650-class steeple cabs in the summer of 1999. The price was in the $500 range, but the detail far surpassed the old MEW models.

The Car Works also brought in their own model of the SN 650-class steeple cabs in 1999. These models also sold in the $500 range, and were available painted in several different schemes. The striping on these models was a lighter orange than that currently worn by SN 653 and 654. This caused some complaints about color accuracy. The paint on these models was carefully matched to surviving paint chips and is correct for the units as they were painted by the Mulberry Shops up to 1951. When 654 was later painted at Sacramento in the early 1960s, a much richer shade of orange worn by WP diesels was used. SN 653 was also repainted at the Orange Empire Railway Museum after retirement, again using WP Zephyr orange. The Car Works paint jobs ARE absolutely correct for these engines.

Ken Kidder apparently imported a Baldwin steeple cab of SN parentage in 1959. Your editor knows nothing more of this engine.

Model Railroading Warehouse offers a brass kit for a Baldwin Class-D steeple cab. The model is intended to be powered with the old version of Bachmann's 44-ton GE diesel. It would be a good start on 441-442 and 660-661.

Suydam provided two models of obscure prototypes. One was NE freight motor 1010 in its original 53-foot length (See our story NEW 82-TON ELECTRIC LOCOMOTIVE OF THE NORTHERN ELECTRIC RAILWAY for more details about the prototype). The second was a generic flat-bed work motor which bears a strong resemblance to SN 701, "Old Maud", a construction-motor which subsequently pulled freights on several of the lesser branches until scrapped in 1935. The latter model's Pacific Electric trucks are a big inaccuracy (needs St. Louis 47s), but if third rail shoes are applied, the discrepency will not be so noticable.
---
DIESEL LOCOMOTIVES
Modelers of the diesel era have been well provided with generic models in brass, cast metal and plastic for almost every type operated by the SN. To date, no known models of any diesels have been offered with SN lettering, however decals for almost every type and lettering variation are available from Microscale except the original black worn by the 44-tonners. Since most diesel-era modelers will probably choose the excellent plastic engines now available, my comments will focus mostly on that market segment.

Bachmann has imported well-made models of the "Phase IV" GE 44-ton diesel. These are suitable for SN 142-146. Similar models in metal have been available from Keystone Locomotive Works. Model Engineering Works also made a pot metal version of this engine in the 1950s and 1960s, but it is inferior to the Bachmann model. The older SN 141 and 147, were "Phase Ib" engines with different hood vents. They would require extensive modification of the Bachmann shell, though this variation has been done in brass.

Bachmann has also produced models of the GE 70-tonner suitable for SN 201 and 202. Keystone and Ivers Engineering have offered metal kits for this engine.

Models of the SW-1 have been available from Walthers and in brass which can represent SN 401 and 402. The major modifications needed are outboard handrails, a new stack and a spark arrestor screen, plus correct horns. The stack base is available from Custom Finishing, part #284, or you can scrounge the base from a Kato NW-2. Note that the most common brass SW-1 models have late-model square front windows, versus the arched windows of the Walthers model which are correct for SN 401-402.

Kato's NW-2 can be used to model SN 607. Again, the main changes are the addition of outboard handrails, plus the very fat exhaust stacks applied by the Union Pacific during rebuilding.

Alco S-2s are available from Atlas. These can represent SN 403, 404 or 406. The stacks on all these engines were modified from the original Alco design, and all three were different. Flying number boards were mounted on the nose of 406, instead of the built-in side number boards as represented on the model.

Alco S-1 405 can be built from the Proto 2000 model. One could also use a Smokey Valley S-1 hood, part number 94, with the Atlas S-2 frame and cab.

Stewart (now a division of Bowser), a well-known maker of diesel models, has released a plastic VO-1000 with separate details which could make a credible SN model. The model without step guards (#4702) is closest to SN 407. While brass models of VO-1000s have been imported, your editor knows of none with the combination of features sported by WP/SN engines.

Stewart has offered an F-3 which can represent SN 301A and 301D. Note that these engines had the low roof-top fans like F-7s.

SN GP-7s 711 and 712 can be made with any of several models of this popular engine. Proto 2000's model would be my first choice. The Atlas model has an excellent mechanism, though unfortunately comes with cast-on grabs. The old Front Range model can still be found on the used market, powered or just as a shell which could be mounted on an Athearn or Protopower West chassis. Athearn's model has been extensively retooled and has a new mechanism. Note that with any conversion, the air horns will have to be removed from the short nose and the holes filled. The air horn cluster was located above the dynamic brake blisters.
---
CABOOSE AND FREIGHT CARS
Fans of the diesel-era SN have been provided with a nice selection of WP-prototype brass cabooses over the years. The so-called Haskell & Barker-design wooden cupola caboose was offered in the early 1990s by Overland Models (representing SN 1621-1629 as-is, and 1615-1617 with modifications). Several other importers have offered similar D&RGW models of this car which might be converted.

Athearn/Roundhouse also makes a plastic kit which is a fair model of the Haskell & Barker caboose. The car's biggest problems are its passenger-type steps, rather than tender steps, and narrow end platforms. A new underframe (with truck bolsters moved closer to the car ends) and wide end platforms could be scratchbuilt for a more accurate model.

Overland imported a new run of bay-window cars (SN 1640-1644) during 2006 which came in factory paint. AB-1130 carried the boxcar red scheme numbered as 1640, and AB-1131 was available in green as 1642. Balboa and Westside imported unpainted models of these cabooses in the 1960s which are common on the used market, and a brass kit for this car was available from Precision Scale.

A shingle-sheathed WP cupola car was imported by Westside in the 1960s. It was available in both the common passenger step version (which correctly represents SN 1630, 1632, 1634, 1635, and 1637-1639), and a tender step model (that resembles only SN 1631 and 1636). There were several runs of the tender-step cars, and they are fairly easy to find on the used brass market. There was apparently a single run of the passenger-step cars, and they are very scarce.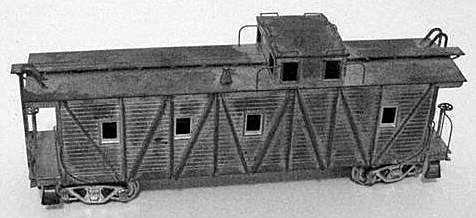 The Westside and Balboa caboose models were imported in the 1960s. They
lack the detail of current brass models, but are still sought by collectors.
Roundhouse makes a single-sheathed caboose kit which can be lengthened into an ersatz cupola-type car. See references to Jim Providenza's article on this conversion in our bibliography section. Due to the jig-saw puzzle method of cutting the car apart, it might be possible to make a fair model of SN 1633, a car which has never been offered in brass.

Red Caboose offered a nicely done GS gondola lettered for SN's 4001-4020. Unfortunately, this model has a 41-foot inside length. The prototype SN gons had a 45-foot, 10-inch inside length and taller sides. The number of panels is correct, and the car looks nice, but it is at best a stand-in.

The Walthers/Train Miniature double-sheathed boxcar is vaguely similar to the SN's Mount Vernon boxcars. The wooden-end model is the closest match for prototype cars SN 2129-2153 and 2329-2350 (the same cars renumbered). Ex-WP cars, SN 2301-2328, had either inverse Murphy (SN 2301 only) or inverse Dreadnaught ends. The steel-end model has obverse Dreadnaught ends with wrong number of wales, and the roof seam caps are all wrong. This steel-end car was offered with custom SN lettering by the Walnut Creek Model Railroad Society in 1987. These still surface occasionally at swap meets.

Sunshine Models, (P.O. Box 4997, Springfield, Missouri, 65808-4997) released resin flat kits of the WP/SN Mt. Vernon wood-sheathed boxcars in the spring of 2002. Kit 59.5 came with inverse Murphy ends and represented SN 2301. Kit 59.6 had inverse Dreadnaught ends and modeled SN 2302-2328. The steel-end cars were sold to the SN in 1948. Wooden-end cars were offered as a limited run in the spring of 2003. Kit 59.9 modeled SNRR/SNRY 2219-2153 as they appeared from 1919 to 1947, or SNRY 2329-2350 as they appeared from 1948 until retirement. Decals were included in all kits, and the steel-end cars were also available with Western Pacific lettering.

The PS-2 47-foot covered hopper from Con Cor is a fair match for SN 5001-5010 and 5011-5020 (the SN cars were slightly taller and had a more ribs). The Sierra Division PCR/NMRA sold a limited edition model of this car lettered for SN in 1990. A similar and more accurate assembled model was made by Walthers in late 2005. Use undecorated 932-7950, but you're on your own for decals.

PS-1 50-foot double-door boxcars have been offered as unlettered kits in the past by Robin's Rails, and recently by Intermountain and Kadee. Kadee makes the only model with the correct "arc-slope" side sill of the SN prototype. SN 2401-2500 were built with Superior doors, which would have to be scratch built in styrene, though this is a very simple job. The Kadee car is available as an undecorated model by special order through dealers, or direct from Kadee.

Until 1947, the SN operated some 36-foot wooden truss-rod boxcars from several different builders, all of which were nearly identical externally. (See our story A NORTHERN ELECTRIC MYSTERY: THE HICKS ROAD BOXCARS for more details about the prototype). Athearn/Roundhouse's original one-piece old-time boxcar appears to be similar to at least some of these cars in their earliest years, though nearly all the SN cars were built, or rebuilt, with Murphy steel roofs.

Bev-Bel has offered SN lettering on an Athearn 40-foot steel boxcar. This "model" is a total fake. The SN MEVER owned any 40-foot steel boxcars.
---
A FEW WORDS ABOUT HO DECALS
Microscale Decals
The decal situation for the diesel-era SN is fairly good, thanks largely to excellent offerings by Microscale. Set 87-26 includes lettering for one SN F-3. Set 87-211 has enough lettering to do several switchers from the "Pumpkin II" or orange-and-silver eras, including 44-tonners. Set 87-212 will letter several single-sheathed cabooses. Fans of Perlman green can use set 87-187 to letter the surviving switchers or the GP-7s of the 1970s. Finally, set 87-274 can be used for the post-1980 green and orange scheme.

Champion Decal Company once offered the arched lettering used on SN's 40-foot wooden boxcars as set HN-144. Unfortunately, it has been discontinued for several years and Champion is now out of business. (July 2004) Sunshine Models will sell similar decals from their kits as separate parts as long as the supply lasts. Sunshine is now Resin Car Works which appears to no longer have SN decals.

Clover House (PO Box 215 Veradale, Wa. 99037-0215 (509) 999-6247) offers dry transfers for SN's 50-foot Pullman double-door boxcars (8725-03), and the 40-foot wooden boxcars (8725-02). https://cloverhouse.com

La Belle Woodworking Company sold the decals from their passenger car kits separately. These are HO-77-CD for the coach and HO-78-CD for the combine. https://www.labellemodels.com

Custom Traxx (P.O. Box 641175 West Los Angeles, CA 90064-1175) began offering SN decals in 1997. They have offered sets in gold or deluxe for passenger cars, and also a freight motor set. http://www.trolleyville.com/customtraxx/link.htm

Custom Traxx had all of our decals made by Rail Graphics in South Elgin, IL from our beginnings in 1992. The proprietor of Rail Graphics retired at the end of 2017. We obtained most of our artwork and have engaged Highball Graphics of Ossipee, HN as our new supplier. If anyone is interested in those decals marked out-of-stock, we will re-run them if there are a minimum of 10 sets required. We will get a quote on the set and may require a down payment of 50%.

Correctly-sized Railway Express Agency heralds for combination cars can be found on Microscale set 87-1010.
---
MODELS IN O-SCALE
About 1964, Ken Kidder imported two slightly different unpowered models of South End combines SN 1007 and 1017. These were just brass bodies with wooden roofs, and lacked most of the underbody detail, trucks, poles and pantographs.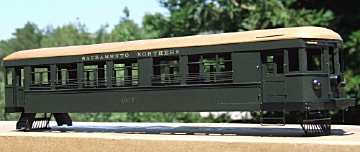 The Ken Kidder O-scale combine bodies occasionally turn up on the used
market. Bob Zeman's model has corrected windows and a custom paint job.
These rare brass models can look quite impressive when properly finished.
Robert Zeman photo.
La Belle Woodworking Company again offers O-scale wooden craftsman kits for coach SN 108 (O-211) and combines 106 and 109 (O-212). With some modification to the rear doors, the combine model can also represent 107, the Oroville car. These are the same prototypes as La Belle's HO scale models. The La Belle O-scale line was discontinued for several years, however, they returned to production in 2003. Decals for these cars are also available separately.

In early 1999 The Car Works (P.O. Box 4254, Warren, New Jersey 07059) imported an O-scale model of the SN 650-class steeple cabs. This was high-quality brass model that came factory painted. Correspondents who have seen and test run the model report that it is extremely well done, and the drive is superb after break-in. The original price was in the $700 range.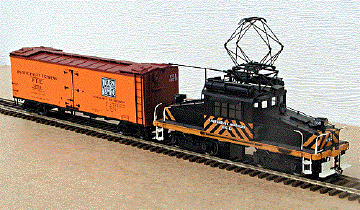 Car Works O-scale SN steeple cabs were available factory-painted in several correct
schemes. This 650 model shows the final striped scheme with small numbers.
Steve Colby photo
Car Works also produced a generic model of the Baldwin-Westinghouse class D steeple cab during the 1990s. This model is similar in size to SN 441-442 and 660-661, and might also be used to build models of 605 and 606. The model apparently was sold as an unpowered brass shell, but included trucks, pans and poles. It is not known if it was also available powered. Bob Zeman suggests a drive from Q-Car Company would be appropriate.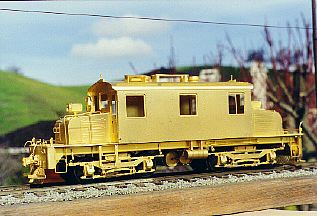 The Car Works Baldwin motor is an impressive model, and adaptable to several
SN prototypes. An accurate model would require end and new side handrails,
removal of the steps above the trucks and new roof detail.
Robert Zeman photo.
Model Railroading Warehouse also offers an etched brass body kit for a Baldwin Class-D steeple cab in O-scale suitable for 441-442 or 660-661.

Q-Car Company offers a epoxy resin model of the GE 50-ton steeple cab locomotive. This model would be a suitable start on building SN 440, though the other SN Baldwins were slightly beefier 60-ton models. Handrails and other specific details would have to be fabricated to match SN practice. The model is available as a body kit, a completely assembled body, or as a powered ready-to-run model.

Atlas offered an F-3 which would make a good start on SN 301A-D. P&D Hobby Shop also offered an F-unit kit.

Weaver Models has offered a styrene VO-1000 which could easily be modified to represent SN 407. The model's curved step guards would need to be straightened, the frame gussets reshaped, stacks changed, and nose number boards added. The model as been offered in WP orange-and-silver paint, which would only require relettering and the above changes.

Rich Yoder Models has imported brass models of 70-ton and "Phase IV" 44-ton diesel locomotives. The 70-ton model is close to SN 201 and 202, and the 44-tonner is suitable for SN 142-146. In January 2003, he advertised a "Phase I" 44-tonner (actually it is a "Phase Ib"). The model in the photo is a near match for SN 141 and 147.

A fine styrene kit for SN boxcars 2302-2328 is available from San Juan Car Co. (Kit # 125/125-P). The car is also available with WP decals to represent series 16001-18500. Your editor was pleased to assist San Juan with historical research on this model.

Darr Scale Models once offered a craftsman-type kit for the NERY/SNRY 40-foot wooden flatcars with optional gondola sides. Details of this kit are mystery, but one surfaced on E-Bay in 2003.

Clover House has dry transfers for SN's 50-foot Pullman double-door boxcars, and the 40-foot wooden boxcars in O-scale.
---
MODELS IN S-SCALE
Back about 1993, River Raisin Models imported a brass model of the "Phase IV" 44-ton diesel in S-scale. They are similar to SN 142-146.

S Helper Service offered models of F-3s, SW-1s and NW-2s. No SN lettering is offered, however, any of these would make a good start.

American Models made a GP-9 kit which could be backdated to a GP-7 using parts from Des Plaines Hobbies.

Model Railroading Warehouse also offers an etched brass body kit for a Baldwin Class-D steeple cab in S-scale. This is the same model offered in HO and O scales.

Your editor is not familiar with S-scale, and cannot say if there are other suitable SN models on the market.
---
MODELS IN N-SCALE
As far as your editor knows, there has been only one N-scale model suitable for an SN electric car at this time. Father Nature Model Railroad Specialities offered a resin body for a four-wheeled Birney streetcar which could serve as the basis for a model of SN 60-68. This firm offered several other trolley and interurban models which might serve as stand-ins or kitbashing fodder for SN cars.

Tomytec produced a non-powered Japanese prototype N-scale steeple cab locomotive with pantographs. The model has wide hoods, but with some work could be a stand-in for the SN Baldwins. A motorizing kit is available separately. Tomytec also offered pantographs as a separate item.

LifeLike has offered a 44-ton GE diesel. The tooling appears similar to their HO model, so it would be suitable for SN 142-146. The model is DCC equipped. A photo of the mechanism with its shell on the Bachmann web site suggests the chassis and motor would be useful for kitbashing a model of boxcabs 410 or 420, but the motor housing is too tall to use in either the Baldwin or GE steeple cabs.

Both Intermountain and Kato offered an F-3 which would make a good start on SN 301A-D.

Kato also had a very nice NW-2 model which could be modified to SN 607.

Rivarossi imported an Alco S-2 which could represent SN 403, 404 or 406.

Atlas and Proto 2000 have done GP-7s which could be used to model SN 711 or 712.

Atlas imported a Baldwin VO-1000 in 2003. The engine was offered in Western Pacific orange-and-silver paint, with two numbers, and painted but unnumbered. The latter would be the best choice for a model of SN 407. Photos show this engine lacks curved step guards, so it would be fairly close to the SN/WP Baldwins.

Trainworx ( http://blwnscale.com/trainworx.html ) offers a 46-foot GS gondola. The model appears to represent WP 9101-9400, the 1953 General American cars, also built for the D&RGW. The car is not available lettered as SN (the 4001-4020 series were built in 1957 by AC&F and had slightly different ends). D&RGW cars frequently operated on the Pittsburg steel trains in the early 1950s, and the WP cars were also very common on all parts of the SN.

Micro Trains offered a Southern Pacific wooden caboose (#51000, undecorated) which could be easily converted to SN 1605-1607, and 1610-1611. The cupola would need to be narrowed by removing most of the pillars between the side windows (requiring some filling of the hole in the roof), cupola braces added, and truss rods fabricated. The position of the windows is not absolutely correct, but would probably be acceptable to most modelers. The correct paint scheme for these cars until at least 1952 was boxcar red sides on the body and cupola, bright oxide red on the body and cupola ends, a black roof (?), and probably black trucks and underframe. Lettering was white.

Roundhouse (Model Die Casting) offered an assembled wooden caboose similar to their HO car cited above as their 85801-series. The body is very close to the SN's Haskell & Barker-design cars, SN 1621-1629, plus other WP cars used under lease by the SN. As with their HO model, the N-scale car comes with passenger-type steps, while the WP and SN cars had full-width end platforms and tender steps. Extended eaves above the cupola side windows, diagonal cupola braces, and arched handrails at each corner of the cupola, are important details which would make a more convincing model.

A custom painted 50' boxcar was once offered by Aztec Manufacturing Co. as their 2017. It is not clear from the single photo your author has seen if the car was based on a PS-1 model or some other casting.
Not much is known by your author about the Aztek SN boxcar, but here
it is. The lettering was nicely done, and apparently 12 numbers were offered.
Micro Trains lists a 50-foot Pullman double-door boxcar which could be used to build SN 2401-2500. The Youngstown doors would need to replaced with scratch-built Superior types. Clover House offers correct dry transfers.

Micro Trains also offers a 40-foot wooden boxcar with wooden ends which is similar to the SN 2329-2350 series, though it lacks the distinctive channel sills.

Microscale offers the same SN decals in N-scale as are available in their HO line. Set 60-26 includes lettering for one SN F-3. Set 60-187 has enough lettering to do several switchers from the orange-and-silver or pumpkin II eras. Set 60-212 will letter several single-sheathed cabooses. Fans of Perlman green can use set 60-187 to letter the surviving switchers or the GP-7s of the 1970s. Finally, set 60-274 can be used for the post-1980 green and orange scheme.

Clover House sells dry transfers for SN's 50-foot Pullman double-door boxcars, and the 40-foot wooden boxcars in N-scale.
---
MODELS IN G GAUGE
Hartland offers an excellent Birney streetcar. The car would be close to SN 60-68. A proper model would require the structural steel towers that raised the trolley poles to the line's interurban-height wire. The car is not suitable for 69-70, the two "Ubangi lip" cars.
Custom Traxx offered set GN-62 which will letter the Hartland Birney in the original 1920 dark green paint scheme. Numbers for cars 60 to 68 are offered.

USA Trains offers several diesels which could be painted and lettered for the SN, though decals will be a big problem. They offer a 44-ton GE center cab suitable for 142-146, an F-3 which is a close match for 301A-D (with correct F-7-type fans), a GP-7 which could represent 711-712 with a few detail changes, and an NW-2 which with stack modifications would be close to 607.

Mike's Train House has offered an F-3.

Aristo-Craft offers a 1/20 scale narrow gauge caboose (their 82100 series) which has the general proportions of SN 1615-1617 and 1621-1629 in 1/24th or 1/29th scale. Some simple detail changes would be needed, such as removing the cupola window mullions and awnings above the body windows, plus adding sway braces and arched cupola handrails.

Another possible caboose is a similar wood-sided car offered by USA trains. It appears to be slightly shortened, but has the general window and cupola arrangement of the SN ex-WP and D&RGW cars. Again, curved handrails and sway braces on the cupola would be needed.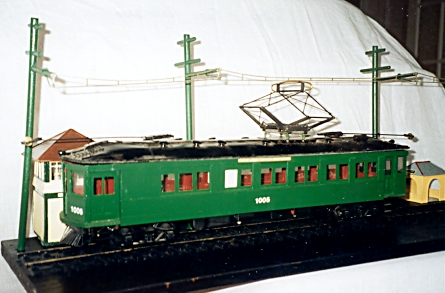 John Perkin's scratchbuilt this model of 1005 in 1/22 scale. The huge car is often
displayed at train shows in England where John lives. Also seen in the background
are scratchbuilt O-scale models of SN's Woodland tower and a typical South End shelter.
John Perkin photo.
---
MODELS IN RIDING SCALES
RMI Railworks (AKA Roll Models, 1-559-441-8686) produced a battery-powered GE steeple cab for 7.25 and 7.5 inch gauges. The locomotive was available with SN lettering (as well as other roads). From the RMI's drawings, the model appears to lack some distinctive SN features such as roof air tanks. Although not an SN car, they also offered models of WP's 1915 single-sheathed Pullman boxcars which would make a nice companion to the steeple cab.
---
Special thanks to Robert Zeman for his generous help with the O-scale section of this page, and to Robert A. Campbell for information about the Car Works 450-class paint. Robyn Watkins generously supplied information on O, S and N-scale diesels.