DEADHEAD TRAINS TO AND FROM SAN FRANCISCO
BY GARTH G. GROFF
WITH ASSISTANCE FROM ROBERT A. CAMPBELL, SR.
Updated August 9, 2011
Among the Sacramento Northern's most mysterious passenger trains were runs over the San Francisco Bay Bridge to and from the Transbay Terminal as "deadhead" movements.

"DH" designated both eastbound and westbound trains which operated without passengers between San Francisco and the SN's 40th & Shafter yard. Deadhead trains carried the prefix "DH" on their indicator boards, and were so listed in the line's employee timetables beginning at least on January 15, 1939, when the Bridge Railway began operations. Before the SN began trimming service in late 1940, and the SP left the Bridge Railway entirely, there were 392 weekday train movements among the three companies. The sheer volume of SN, Key System, and Southern Pacific trains on extremely tight headways across the San Francisco Bay Bridge demanded timetable status for deadhead movements.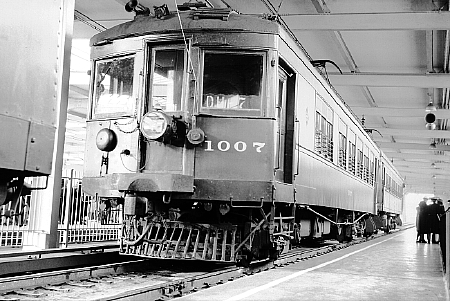 SN 1007 with Hall Scott 1024 as Train 7, the afternoon Comet, had just
arrived at San Francisco's Transbay Terminal on May 5, 1940. Now Train DH-7,
the equipment will depart at 6:03 p.m. for servicing at SN's 40th & Shafter yard.
Kenneth C. Jenkins photo; Garth G. Groff collection.
There was no space available at the Transbay Terminal for storing or servicing equipment. Many trains which began or ended their runs in San Francisco required deadhead movements as equipment came on duty, or was removed for cleaning and servicing. The SN operated eleven eastbound trains from San Francisco on weekdays and Saturdays, five of which were deadhead movements. Eleven westbound arrivals included three deadheads. Obviously, some trains did not require deadhead movements, but rather disgorged their passengers, gobbled up a new load and pulled out again moments later with new train numbers.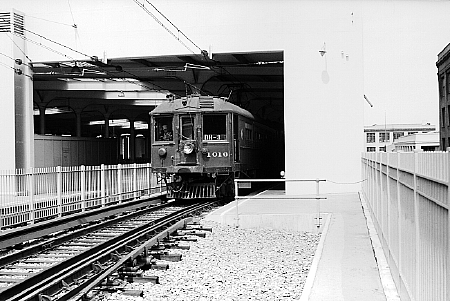 Train DH-3 nosed out of the Transbay Terminal at 1:47 p.m. on May 5, 1940. Combine
1016 had led Hall Scott motors 1021 and 1018 on the morning westbound Meteor.
Kenneth C. Jenkins photo; Garth G. Groff collection.
"DH" trains took the same number as the runs which the equipment had just finished, or the number of a run which would shortly depart San Francisco. This had the odd effect of placing odd numbered trains on the eastbound timetable, where all revenue trains carried even numbers. The situation for westbound deadheads was, of course, exactly the opposite. No matter. It made perfect sense to the dispatchers and crews. The public, of course, could not have cared less, and would not generally have had access to an employee timetable anyway.

According to Employee Timetable 20 of April 23, 1939, the day's first deadhead began as Train 17 arrived from Concord at 8:37, and departed at 8:42 as DH-17. Note that only five minutes was allowed for unloading. Train 1 from Sacramento pulled in at 10:06, and moved out again at 10:11 as DH-1.

In the early afternoon DH-6 arrived at 1:09 p.m. After a "generous" layover of just nine minutes (which included loading time), it departed as Train 6 for Chico at 1:20. Train 3, the Meteor arrived at 1:44, and departed just 3 minutes later as DH-3. DH-8 arrived at 4:33. After another short layover, it departed as Train 8, the afternoon Meteor for Sacramento and Chico, at 4:43.
Train DH-17 had just arrived at 40th & Shafter from San Francisco at 9:03 a.m. on
May 18, 1940. Train 17 began the day at Concord with a 7:17 a.m. departure, with an
8:37 a.m. arrival in San Francisco. The train would cycle as another Concord local later that day.
Wilbur C. Whittaker photo; Garth G. Groff collection.
The pace of operation in the evening slowed considerably. The next deadhead was Train 7, the Comet, which arrived at 5:58, then departed as DH-7 at 6:03. DH-10 moved into the Terminal at 8:04. It departed for Sacramento as Train 10 at 8:10. Perhaps the extra minute for loading was allowed thanks to a more relaxed pace after the end of the day's commuter operations. Train 11 arrived from Chico at 10:35, and just two minutes later trundled off as DH-11.

Operation was a bit different on Sundays and holidays with a slightly reduced schedule. Trains 17 and 10 were not run at all, so DH-17 eastbound and DH-10 westbound were also missing. A Sunday-holiday deadhead run was DH-16 which arrived for loading at 8:08 a.m., with an 8:15 departure as Train 16.

Saturdays and Sundays also saw a number of railfan excursions which loaded at San Francisco. These specials required deadhead trains both in and out. Excursions usually ran with an "X" before the four digit number of the lead motor (example : X1010). Since there were only five slots in the number boards, this made for some interesting deadhead numbers. A deadhead special lead by 1010 would have been DH-X1.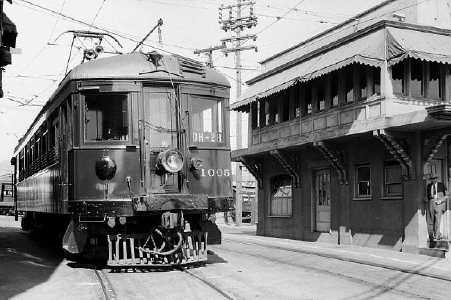 Train DH-28 waits departure by the depot-tower at 40th & Shafter August 17, 1940.
DH-28 was an unusual train number, and was not listed in the employee timetable.
As Train 28, the equipment would leave San Francisco for Concord at 3:57 p.m. This was a Sunday
and holiday only train, with no corresponding arrival in San Francisco for Train 28 to replace.
Kenneth C. Jenkins photo; Garth G. Groff collection.
On August 26, 1940 the SN ran its last regular through passenger trains to Sacramento, with the remaining service cut back to Pittsburg and Concord. Employee Timetable 21 issued August 27, 1940, listed only two deadhead movements. These were the Eastbound DH-1 and DH-17, running daily except Sundays and holidays. This arrangement lasted less than one year, with all SN passenger service out of San Francisco ending June 30, 1941.

Before bridge service began, deadhead trains are known to have operated between 40th & Shafter and the Key System ferry pier, or to and from temporary storage at the Key System's Emeryville yard. Deadhead operations were also used in Sacramento between the Union Traction Terminal and the small yard at 17th & D Streets, and probably at Chico between the passenger station and Mulberry yard. These movements, however, were not listed in the employee timetables and were controlled locally.