AN OVERVIEW OF SN CABOOSES
Updated and corrected August 5, 2011
NORTH END CABOOSE CARS
The Northern Electric Railway, and the pre-merger Sacramento Northern Railroad, are known to have owned a total of twelve caboose cars. Most were odd-balls, purchased used or converted from other types of rolling stock. These were intermixed with what came closest to an SN "standard" caboose, some purchased, and others built in the Mulberry Shops.
The earliest cabooses were numbered 601-604, and presumably were all similar side-door types. The first two had earlier been rebuilt as boxcars using ex-Oregon Short Line flatcars in 1906 at the Diamond Match Company shops. Whether they were used as boxcars only for construction, or actually served as revenue cars, is not known. Within a few years they were rebuilt again as cabooses. The fate of 601 is not known, but it was off the roster by the early 1920s. Caboose 602 was wrecked and retired in 1916.

The pedigree of cabooses 603 and 604 is not known. The common story is that they were rebuilt from ex-Southern Pacific boxcars of 1890 vintage, and a photo of such boxcars in Swett's CARS OF SACRAMENTO NORTHERN seems to show SP design features. Differences in weight and length suggest they were not built from OSL flatcars like 601-602. In early 1921 they were renumbered SNRR 1603 and 1604. Both were retired and scrapped in December 1941.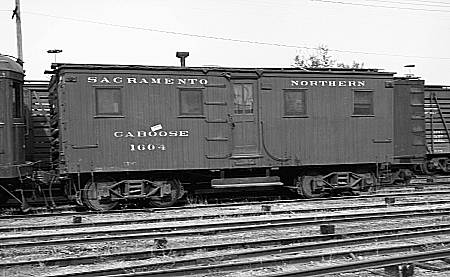 SNRY caboose 1604 was sidelined in 1940 at Chico shortly before scrapping.
This car was converted from an ex-SP boxcar. Note the uncovered third rail.
Wilbur C. Whittaker photo; Garth G. Groff collection.
Northern Electric's "standard" cabooses were five conventional cars with a 34' 10" length and bodies about 28 feet long. The first was built in 1917 and was originally numbered NERY 623. Not surprisingly with its late appearance on the Northern Electric, only one picture of this car in NE lettering is known (Swett, SACRAMENTO NORTHERN, page 39). This car was built in the Chico shops, and was not an ex-WP car as Swett claims elsewhere. The new caboose reused the number of an early ex-SP maintenance-of-way boxcar, which suggests a possible rebuild, though there probably wasn't much reused beyond the trucks, brakes and truss rods. In early 1921, NE 623 became SNRR 605. Two more cars of this type were built by Pacific Car & Foundry at South San Francisco in 1920 as SNRR 606-607. These three cars were renumbered as 1605-1607 by mid-1921. Two additional cars of this design, SNRY 1610 and 1611, were built by the railroad in 1928 as part of the capital improvements connected with the new Holland Branch. Caboose 1610 rode on arch bar trucks with spoked wheels, probably salvaged from some passenger car.

Cabooses 1605 and 1606 were scrapped in 1948, with 1607 following in 1954. At some point late in its active career, 1611 had its arch bars replaced with Andrews trucks. This probably happened in late 1954 or early 1955, the same period when many SN wooden boxcars were also re-equipped with Andrews trucks. Finally, 1610 and 1611 were both retired in 1956. SN 1611 was sold to railfan Hal Wilmunder and was used for crew quarters on his Camino, Cable & Northern tourist line in the 1960s. When that venture folded, the car was sold off as a vacation cabin. It was reported to have been set up in Pleasant Valley, near Placerville, but its present status is unknown.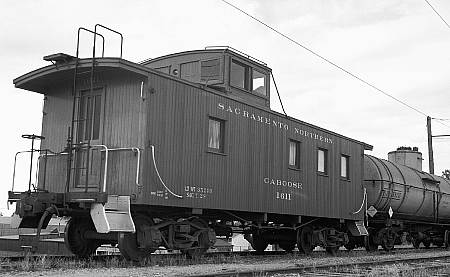 SN caboose 1611, built in the Mulberry Shops in 1928, was the last of the North End's
"standard" cabooses. Here it anchors the end of a freight train at Haggin Yard in 1940.
Wilbur C. Whittaker photo; Garth G. Groff collection.
Baggage car/caboose 1201 and combine 1202 were purchased from the Ocean Shore Railroad in 1921 and converted to cabooses 1608 and 1609. The first, a former Las Vegas & Tonopah Railroad car, was 45-feet over the platforms, lacked a clerstory or cupola, and had two baggage doors per side. The SNRR is known to have operated the car in this condition for a while. Later the baggage doors were filled in with tongue-and-groove siding, three windows per side and a cupola were added. It remained in caboose service until 1948 when it was retired. Car 1609, which was over 50 feet long, was originally built for the Corvallis & Eastern as an classic wooden clerstory combine. When the SNRR shops were through with it, the car looked something like a mid-western drovers caboose with a baggage door, 13 windows on each side, and a cupola on an arched roof. The car retained its original 8-foot wheelbase passenger trucks. It became foreman's car MW 51 in 1940. At that time, five windows on each side and the baggage doors were filled in. The car remained in maintenance service until burned for scrap at Moraga in 1957.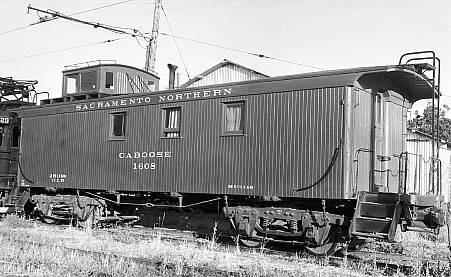 SN 1608 was found in 1939 at Marysville. The car body and cupola ends on
this caboose were painted a bright oxide red, and the sides were boxcar red.
Wilbur C. Whittaker photo; Garth G. Groff collection.
The final North End caboose was a makeshift affair. Needing a caboose for the isolated Vacaville-Willota Branch, the SN removed the electrical gear from streetcar 22 in 1928. It was apparently never renumbered. This car served until 1939 or 1940 when it became a tool shed on the Holland Branch.
SOUTH END CABOOSE CARS
The Oakland, Antioch & Eastern did not enjoy the same freight traffic levels as its northern connection, and had only three cabooses, all a mere 21 feet long. Despite their "bobber" length, all rode on pairs of arch-bar trucks, though there is some speculation that they might originally have been built with just four wheels. According to some records, all three came to the OA&E as used cars in 1913 from Pacific Car & Equipment Co. Other records claim the three cars were actually built new by PC&E for the OA&E.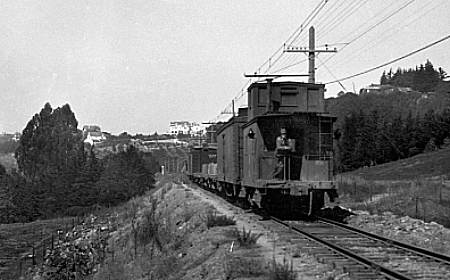 A rare view of an OA&E caboose on a train through the Oakland Hills
in the 1920s shows the car's huge cupola. This is likely caboose 51 or 53.
Western Railway Museum collection; used by permission.
Car 51 had end platforms, two windows per side, and no cupola. Only one photo of this car is known to exist, taken very early in its career, suggesting this might well have been the original appearance of all three cars in the group. It became SNRY 1612 with the 1929 merger and was retired in 1934.

Except for its very short length, caboose 52 was a typical side-door car without end platforms. It featured two small windows on one side of the door, and one window on the other. The roof was graced by a large cupola with three side windows. Caboose 52 was extensively rebuilt in the Oakland shops in 1922. Though there is no record of what changes were made, this probably was when the car was rebuilt to its side-door appearance. This car became SNRY 1613 in 1929, and served until scrapped in 1946.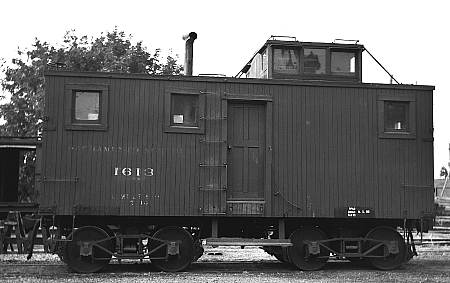 SN caboose 1613 shows its odd charms in 1937 at Chico. "Sacramento Northern" is
is spelled out in small, faded letters above the car number. In another photo from the
the author's collection, this was replaced by "caboose" with the roadname above the door.
Wilbur C. Whittaker photo; Garth G. Groff collection.
The final OA&E caboose was 53. It was similar to caboose 51, with end platforms and two windows per side. Quite possibly it too lacked a cupola when first received in 1913. An early photo in the WRM archives shows this car, or caboose 51, with a very tall cupola. All other known pictures show 53 as having a shorter cupola similar to that of caboose 52. It was renumbered SNRY 1614 with the merger, and was retired in 1946. This car's short length and big cupola gave it a certain charm with railfans, and it was probably the most photographed of all SN cabooses.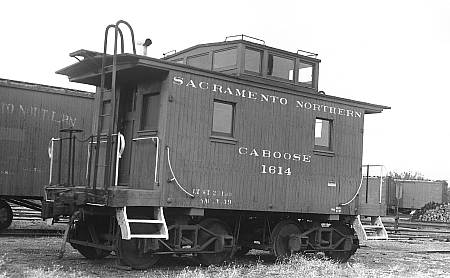 Tiny caboose 1614 was photographed at the Mulberry yard in 1940.
Wilbur C. Whittaker photo; Garth G. Groff collection.
POST-MERGER CABOOSE CARS
During World War II, a boom in traffic left the SN short of cabooses. Three ancient cars were purchased from the Denver & Rio Grande Western in June 1944. They had been numbered 0805, 0860 and 0870, having been built by Peninsular Car Co. in 1888, 1891 and 1891 respectively. The D&RGW rebuilt them extensively to a design shared by all the railroads controlled by George Gould. On the SN, the trio was renumbered 1615-1617. Caboose 1617 was wrecked in October 1944 and was scrapped the next year. Caboose 1615 was retired in 1948, with 1616 lasting until 1952.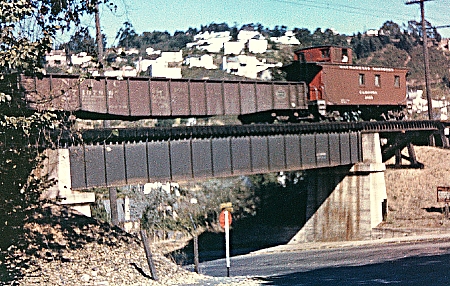 Caboose 1616 was working at Thornhill in 1949. Note the color difference between the car
ends and the sides. The D&RGW replaced one cupola window with a sliding wooden panel.
Wilbur C. Whittaker photo; Garth G. Groff collection.
Following the war years, the SN caboose fleet was nearing the end of its useful life. Many of the cars were obsolete, and in very poor condition after four years of heavy wartime use. The WP management had already been using the SN as a dumping ground where a few more years could be squeezed out of their oldest boxcars, and so it was with cabooses.

Between 1948 and 1954, the WP sent the SN nine of their own Gould-design cabooses. These cars became SN 1621-1629 (for some mysterious reason numbers 1618-1620 were left vacant). Some of these were wooden-underframe cars built for the WP by Haskell & Barker in 1910 (1622, 1623, 1625, 1627-1629). They had received steel center sills in subsequent rebuildings by the WP. Three other cabooses were built new by the WP in 1924 to the same body design, but with steel center sills as original equipment (1621, 1624, 1626). The SN equipped 1621-1625 with AB brakes. No record has surfaced for 1626-1629 receiving AB brakes, but it is likely they too were so rebuilt by the SN or the WP. These cars had been banished from the WP under pressure from the state because of safety concerns about their composite underframes. It wasn't long before they disappeared from the SN as well, some after just three years of service. The likely reason was a state mandate that all cabooses have flush toilets by January 1, 1959. The last of these cars were gone from the roster by late 1958, only two years after the WP had scrapped the last of their own.

From at least 1939 most SN cabooses wore an unusual two color paint scheme. The car and cupola sides were painted a dark freight car red. Car and cupola ends were a much brighter red, something on the order of zinc chromate primer. This is hard to see in black and white photos (especially on the web), but can be confirmed on from photos of 1606, 1608, 1610, 1611 and 1616 in your editor's collection. It is also seen on a shot of 1622 in Charles Smiley's video ELECTRIC RAILS AROUND THE BAY. The bi-color scheme was probably applied to all five cars in series 1621-1625 when they were delivered together in 1948.

Two Gould-design cabooses from the later group wore very unusual paint schemes, both repainted by the WP before being sold to SN in 1953. Car 1627 (ex WP-753) wore the striking "Zephyr" scheme, aluminum with an orange window stripe. Car 1626 (ex-WP 787) had an experimental solid orange paint job with black lettering. A similar car, WP 725 was also briefly used on the SN in solid orange, but with black WP lettering. Many other WP cars of this type served the SN without being formally transfered or relettered.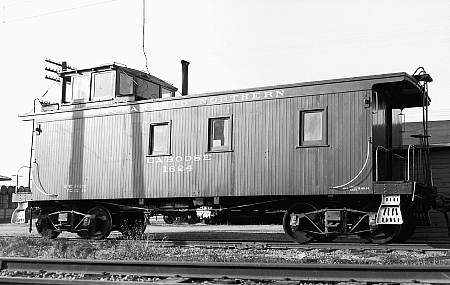 SN 1624, at Port Chicago in 1949, was typical of the Gould-design cars
purchased from the WP in 1948. The car was retired and scrapped in 1956.
Wilbur C. Whittaker photo; Garth G. Groff collection.
The WP next sent the SN ten of their single-sheathed cupola cabooses between 1956 and 1958. SN numbered this group 1630-1639. These cabooses had been rebuilt in various batches between 1938 and 1942 from surplus 15001 series boxcars of 1916 vintage. These cars had sturdy steel underframes, but were being bumped from WP mainline service by modern all-steel bay window cabs with roller bearing trucks. There were three similar designs, the first with three side windows, the cupola near the end of the car, and full-width end platforms with tender-type steps. Number 1633 was the only car of this type on the SN. The second design had four side windows with the cupola moved slightly toward the car's center. Of this type, SN 1631 and 1636 had full-width end platforms with tender-type steps. Numbers 1630, 1632, 1634, 1635 and 1637-1639 were identical to the second design except for narrow platforms with passenger-type steps.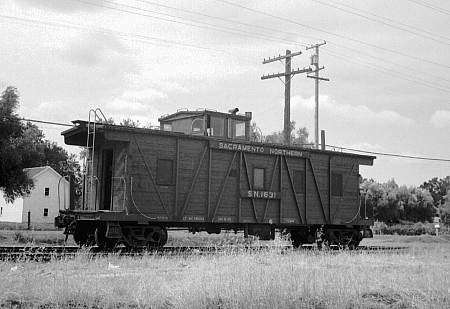 Caboose 1631 was one of the converted boxcars which the WP sent to the SN.
Garth G. Groff photo.
Bob Campbell has noted that these larger cars were not used on the hilly line into Oakland due to their weight. The Gould-design cars weighed between 33,500 and 35,600 pounds, while the converted boxcars weighed between 48,000 and 49,500 pounds. The extra weight would have increased power consumption for the electric motors on the very steep grades through the Oakland Hills, not to mention adding to the problem of braking on the descending grades. The Oakland line was closed out in 1957 using Gould-design cars 1621 and 1622. Even on the relatively flat parts of the SN, increased weight made the bigger cabooses unpopular with crews when pulling trains with the little 44-ton diesels. Their large size also made them harder to heat in winter.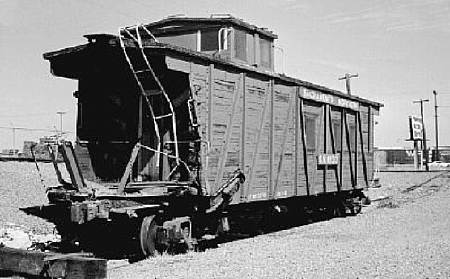 Caboose 1633 met her end in a collision near Port Chicago in 1972.
Note the differences from 1631 in the cupola location and the windows.
Robert A. Campbell, Sr., photo.
The final group of SN cabooses was also supplied by the WP, and once again were the parent road's oldest cars. These were five single-sheathed bay-window cars, numbered 1640-1644, also rebuilt from 15001 boxcars. The first three of these were received in 1961, 1962 and 1964. By the early 1970s, retirement had thinned the cupola cabooses, so the final two bay-window cars were transfered from the WP in 1972. Cars 1642 and 1644 (along with cupola caboose 1632) are known to have received green paint to match the GP-7s WP supplied to the SN in 1971.

The WP management's policy shifted toward total integration of SN operations in the mid-1970s, and cabooses for SN trains were then drawn from the WP caboose pool. Cars 1641 and 1642 were retired in 1976, the last in a long line of SN cabooses.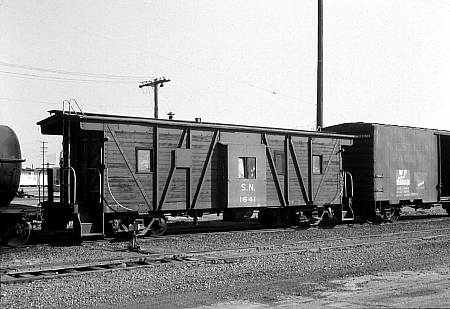 Caboose 1641 was found at West Sacramento in the late 1960s.
Garth G. Groff photo.
---
The information for this article was supplied by Robert A. Campbell, Sr., and is based on research by the late Vernon Sappers. Corrections and additional notes were provided by Robert Campbell and Roger Kirkpatrick. More facts were drawn from P. Allen Copeland's article "All Time Roster of Western Pacific Caboose Cars" in Freight Cars Journal , from Sacramento Northern and Cars of Sacramento Northern by Ira Swett. For full citations of these works, please refer to our bibliography page.