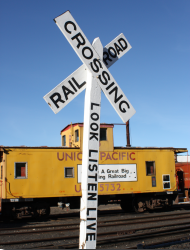 The Feather River Rail Society is a California 501(c)3 Non-Profit Educational & Historical Corporation headquartered in Portola, California, at the headwaters of the Feather River. Located 50 miles Northwest of Reno, Nevada, the primary mission statement of the Western Pacific is to preserve the Western Pacific Railroad with a secondary mission to preserve subsidiary and interchange railroads within the territories WP served.
These missions also include the preservation and interpretation of the history of the WP, with emphasis on:
The "Willing People" as a vital link in the development of the rail industry on the west coast.
The steam and diesel evolution.
WP's influence in the passenger tourism industry.
The impact of freight competition between neighboring railroads.
WP's influence in the lumber, mining and agriculture industry from Plumas County through out Northern California.
The FRRS is the owner and operator of the Western Pacific Railroad Museum in Portola. The FRRS is wholly funded by admissions, locomotive rentals, gift shop sales, and generous donations of time, material, labor and money, and does not receive funding from any local, federal or state governments. The volunteers of the FRRS restore equipment, operate trains, sort and catalog archives, repair and improve the facilities, and perform hundreds of "house keeping" type duties related to keeping the museum open.
In addition to the museum grounds and equipment, the Society is the custodian of several notable archive collections, including historic photographs, equipment diagrams, business ledgers, authorizations for expenditure, equipment records and other important documentation from the Western Pacific Railroad and its subsidiaries, as well as the famous "California Zephyr" passenger train. This collection represents a nearly complete and total history of the railroad. The archives are currently being cataloged and electronically scanned for presentation and availability to the general public to preserve for future generations. Because of this on-going work, the main archives are unavailable for public access. However, our long range goals for the museum include a climate controlled archive library on the museum grounds.
On behalf of the over 1,100 members of the Feather River Rail Society, we invite you to join us in preserving the Western Pacific Railroad and the California Zephyr for current and future generations to enjoy railroading in it's native habitat.