---
Latest Museum News Update:
Last updated Friday
August 18, 2017
---
Museum Open for 2017 Season!
Open Daily 10 - 5

---
LIGHT THE FIRE - Fundraising Dinner Event
Information HERE!

---
BALLOON TRACK IS
BACK IN SERVICE!!!


Track Work is underway at the museum...more information HERE!

---
Preliminary Minutes and Reports from August Board Meeting HERE!

---
At the August 12th Board Meeting - Steve Habeck appointed President, Greg Elems appointed Vice President, Eugene Vicknair appointed Secretary & Bart Hansen appointed Treasurer

---
Next Board of Director's Meeting
September 9th at 4:00 PM

---
RR Days are coming soon!
August 25th-27th
More information HERE!
---
The plans for the October Pumpkin Trains have changed. We will run Pumpkin Trains on Oct 14, 15, 21 & 22 this year.

---
Next Steam Department Work Party will be September 13th-16th

---
WPRM Supports Quincy City Parks and Recreation
Surplus Ties Donated

---
Video by Lew Barnard of how the FRRS prepared and executed an equipment move to Truckee RR days in 2002 added to WPRM Photo & Video gallery

---
Special visit from Julia Rigutto Pagan, one of the four original Red Cross nurses who worked on the WP 106 Charles O Sweetwood blood donation car

---
---
Video of F-Unit Led Caboose Train from July 4th

---
SF Chronicle article about the Feather River Area

---
abc10 Sacramento Visits WPRM
June 2nd,2017

Behind the scenes of the abc10 video shoot

---
Photos from 2017 Season Opening and Members' Day

---
WP 165 - Special
LIGHT THE FIRE!
campaign

---
Support the FRRS when you shop at Amazon with Amazon Smile!
Start shopping HERE!

---
Museum Open for 2017 Season!
Open Daily 10 - 5

---
---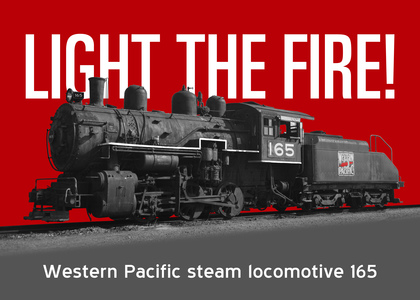 More information HERE!

---
---
---
Click here to become an FRRS sponsor
Click here to view our sponsors

---
Would you like to join our Operating Department?


Help support the museum and society with a monetary donation via PayPal:
---