---
Latest Museum News Update:
*Last updated Tuesday
June 27, 2017
---
Museum Open for 2017 Season!
Open Daily 10 - 5

---
Roadmaster Elems is planning on doing more track work this Thursday (6/29) through Saturday (7/1) in the morning before it gets hot. Everyone is invited to join the track gang and lend a hand.


Track Work is underway at the museum...more information HERE!

---
SF Chronicle about the Feather River Area

---
abc10 Sacramento Visits WPRM
June 2nd,2017

Behind the scenes of the abc10 video shoot

---
Photos from 2017 Season Opening and Members' Day

---
~ NOTICE ~
Effective July 1st, 2017 the RAL fares at the WPRM at Portola will increase $50. ALL RAL certificates PAID IN FULL before July 1st, 2017 will be honored at the current rates.

---
Summer Weekend Train Rides started Memorial Day Weekend!

---
Next Board of Director's Meeting
July 8th
at 4:00 (updated time) at the museum

---
WP 165 - Special
LIGHT THE FIRE!
campaign

---
The dates for the 2017 RR Days event have been announced - August 25th - 27th

---
2017 Election Information HERE!

---
Support the FRRS when you shop at Amazon with Amazon Smile!
Start shopping HERE!

---
---
Museum Open for 2017 Season!
Open Daily 10 - 5

---
---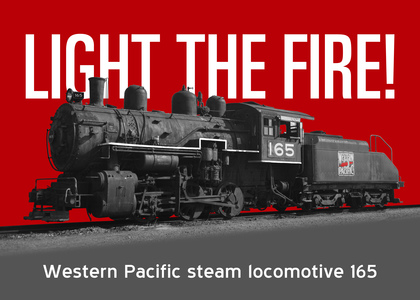 More information HERE!

---
---
---
Click here to become an FRRS sponsor
Click here to view our sponsors

---
Would you like to join our Operating Department?


Help support the museum and society with a monetary donation via PayPal:
---