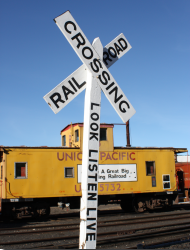 The Feather River Rail Society is a California 501(c)3 Non-Profit Educational & Historical Corporation headquartered in Portola, California, at the headwaters of the Feather River. Located 50 miles Northwest of Reno, Nevada.
It is the Feather River Rail Society policy that the overall management of the non-profit corporation be guided by a defined set of goals intended to attain the society's overall mission. The goals are stated in the FRRS mission statement.
The Feather River Rail Society (FRRS) is the owner and operator of the Western Pacific Railroad Museum in Portola. The FRRS is mainly funded by admissions, the Run-A-Locomotive program, museum store sales and generous donations of time, material, labor and money. The volunteers of the FRRS restore equipment, operate trains, sort and catalog archives, repair and improve the facilities, and perform hundreds of "housekeeping" type duties related to keeping the museum open.
In addition to the museum grounds and equipment, the Society is the custodian of several notable archive collections, including historic photographs, equipment diagrams, business ledgers and authorizations for expenditure, equipment records and other important documentation from the Western Pacific Railroad and its subsidiaries, as well as the famous "California Zephyr" passenger train. This collection represents a nearly complete and total history of the railroad. The archives are currently being cataloged and electronically scanned for presentation and availability to the general public to preserve for future generations.
On behalf of the members of the Feather River Rail Society, we invite you to join us in preserving the Western Pacific Railroad and the California Zephyr for current and future generations to enjoy.