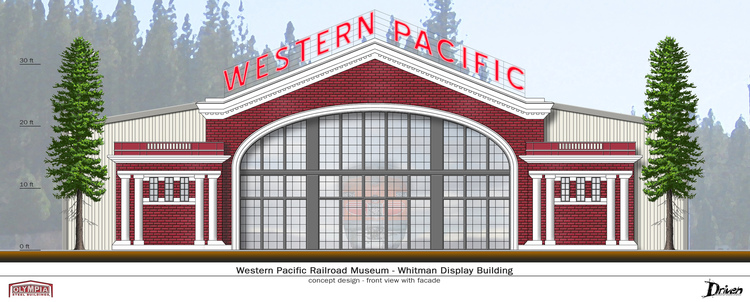 The Whitman Building is a multi-purpose display and event center proposed for the Western Pacific Railroad Museum in Portola, California. When fully complete, it will be a climate controlled building capable of exhibiting 10-16 pieces of historic rail equipment, as well as capable of hosting community events and even functioning as a disaster evacuation center. The FRRS is in the process of purchase the building kit and securing funding for construction.

The building is named in honor of Frederick Whitman, who was president of the Western Pacific during its most successful years.

- - PRESS RELEASE - -

FOR IMMEDIATE RELEASE
WPRM Announces $1 Million Grant Award
(PORTOLA, CA, May 2023) — The Western Pacific Railroad Museum is pleased to announce that we have been selected to receive a $1 million grant from the United States Department of Agriculture Rural Development Fund. This grant will be used for phase 1 construction of our Frederick Whitman Multi-Purpose Building. This grant was received with the generous assistance of California District 1 Congressman Doug LaMalfa and his staff.

The Whitman Building's main structure will be a 100 ft by 200 ft steel building kit that the FRRS has been purchasing from Olympia Steel Building Company. When fully complete, it will feature a custom facade based on the Western Pacific's Ferry Terminal that formerly stood in Oakland, California. Named for the WP's longest serving president, the building will feature 5 tracks for display of equipment and, when complete, temperature control of the internal environment.

Key features of the building will be gasketing in the rail flangeways and power outlets in the floor that will allow its use as a community event center, emergency evacuation shelter or mass casualty support center. The building will also feature ADA compliant, modern restrooms in the facade section.

The FRRS is currently completing the last requirements for release of the funds and pulling together a local team of contractors to finalize design details, work with the city and county on all permits and other requirements and begin pre-construction work leading up to a formal groundbreaking.

For more Information about Western Pacific Railroad Museum visit wplives.org.

About WPRM
Western Pacific Railroad Museum has over 100 pieces of rolling stock, along with and holds one of North America's largest collections of archives, photos and artifacts dedicated to a single railroad family.