Sacramento Northern 712 started life at Electro Motive Division of General Motors in 1953 as Western Pacific 712, part of a 4 unit order of GP7's to supplant WP's earlier order of 9 GP7's ordered the year before (WP 701-709). In July of 1971, WP subsidiary Sacramento Northern was looking to retire their two ex-New York Ontario & Western F3-A locomotives in service on the "SN Steel Trains", running between Sacramento and Pittsburgh, California on the Sacramento Northern. SN management was looking for a pair of locomotives of similar horsepower but more conducive to switching duties, as the previous F3's were carbody style locomotives.

Since, by this time, the Sacramento Northern was essentially a "paper railroad", owned by the Western Pacific, WP elected to transfer two of their GP7 locomotives, "sold" on paper, to the SN, numbers 711 and 712. These two locomotives were among the first to be repainted from their as delivered silver and orange paint, into the new system standard "Perlman Green" paint, adopted with the appointment of Alfred E. Perlman to the Presidency of the WP in December of 1970.

Though sub lettered and "officially" owned by the SN, 712 was often found working on the Western Pacific proper. When Union Pacific took over the WP in the December 1982 merger, SN 712 could usually be found working in San Jose on WP industrial trackage, or running on secondary trains on the western end of the WP.

Upon retirement by new owner Union Pacific, Sacramento Northern 712 was donated in 1985 to the Western Railway Museum near Fairfield, California, where the tired old engine was repainted and displayed. In 2006, the Feather River Rail Society and Western Railway Museum successor, Bay Area Electric Railway Association, traded several pieces of equipment, including SN 712, as BAERA had changed its mission statement "to preserve the regional heritage of electric railway transportation as a living resource for the benefit of present and future generations". FRRS received SN 712, Western Pacific 917, and many other WP artifacts in the trade.

Today, SN 712 is displayed, out of service with a faulty traction motor.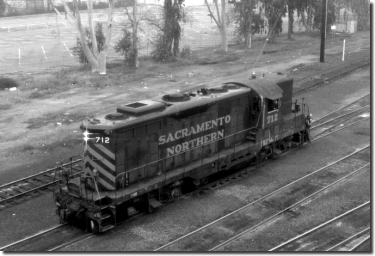 Sacramento Northern 712 working in the fog at Sacramento, California in 1978.
Sacramento Northern 712, (third locomotive in consist), preserved by the Feather River Rail Society at the Western Pacific Railroad Museum in Portola, California, in service on Western Pacific train "CCVX" (Chicago - California Van Express) on Altamont Pass in the early 1980's. Video by Larry Goss, used by FRRS with permission.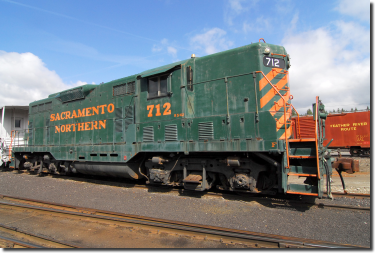 SN 712 on display at the Western Pacific Railroad Museum in Portola, California in 2008.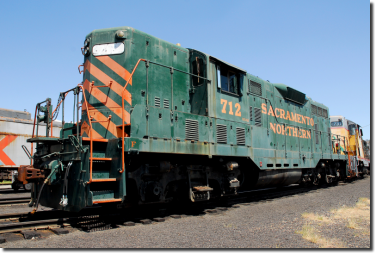 SN 712 on display at the Western Pacific Railroad Museum in Portola, California in 2008.