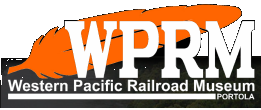 Sweetwood Rededication 2017
Photos by Michael & Tessa Clawson, Kerry Cochran, Paul Finnegan



The Western Pacific Railroad Museum at Portola hosted a celebration of the Sweetwood,
Charles himself and the legacy of the car at the museum on September 9th.
The rededication ceremony was modeled after the ceremonies marking its entry into blood
service held at Oakland and Elko in 1951. September 11, 2017 was
the 100th anniversary of the car entering service.

Page last updated: Thu Apr 21 19:32:53 PDT 2022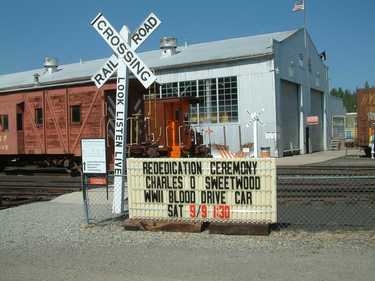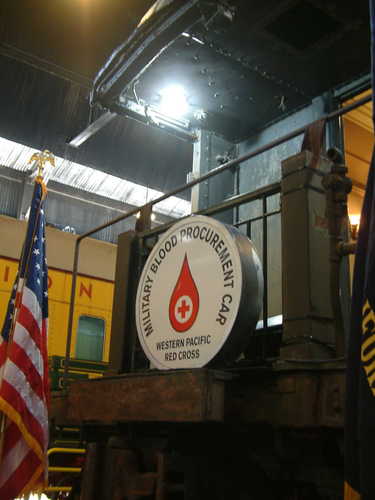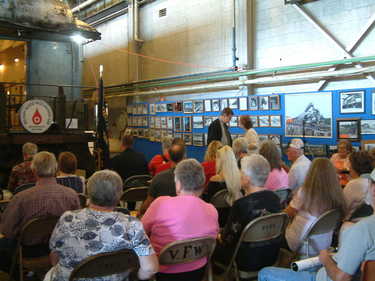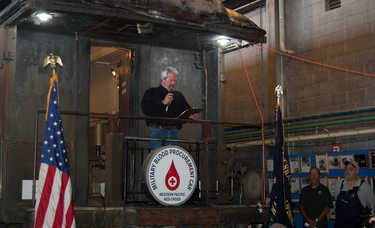 Todd Bruso, Master of Ceremonies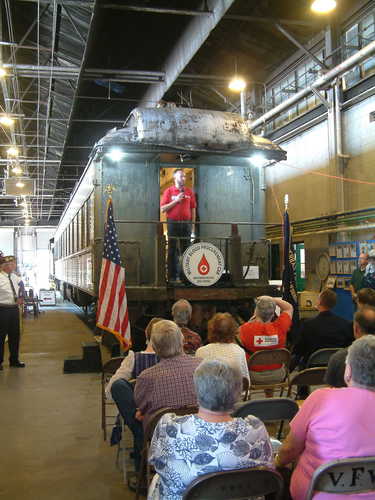 Steve Walsh - Regional Director of Communications and Marketing for the American Red Cross, Gold Country Region



Barb Kramer - Disaster Cycle Services Volunteer Partner American Red Cross of Northern Nevada presents recognition for volunteers whose work provided blood to those in need. The Northern Nevada American Red Cross presented 100 year pins to the families.



Bill Sweetwood - Nephew of Charles O. Sweetwood honored the memory of his uncle.



Julia Rigutto Pagan - One of the Original Red Cross Nurses Serving on the Charles O. Sweetwood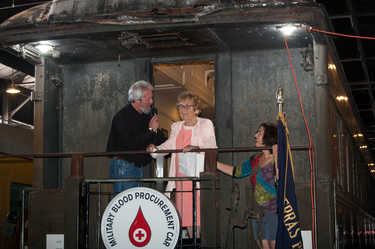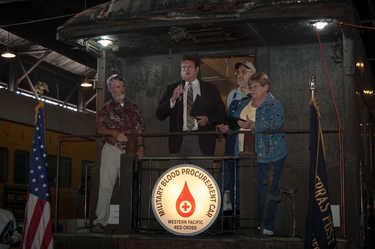 Robert Meacher - Portola City Manager and Pat Morton Portola Mayor, presented special city proclamation to Bill on behalf of the family.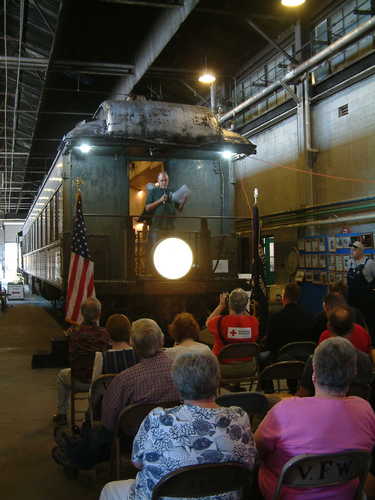 Greg Elems - Vice President and Director, spoke on behalf of himself sharing personal memories of the car and on behalf of the Feather River Rail Society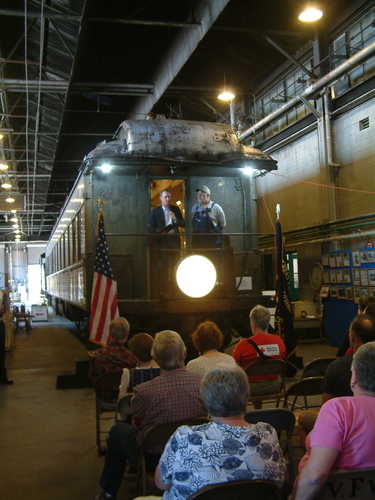 Shane Starr - From the Office of Representative Doug LaMalfa - CA District 1 presented Certificate of Special Congressional Recognition to the Feather River Rail Society in appreciation of its dedication to the history and preservation of the Western Pacific 106 - Charles O. Sweetwood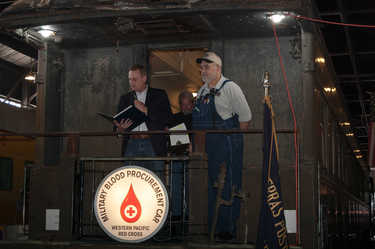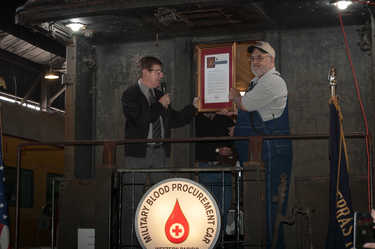 Bill Cardoza - District Coordinator for California State Senator Ted Gaines presented California Senate Resolution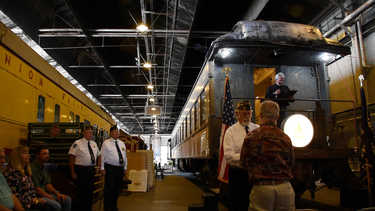 Members of VFW present flag to Bill Sweetwood in memory of his uncle.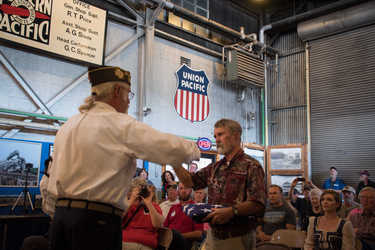 Bill accepting flag in memory of his uncle.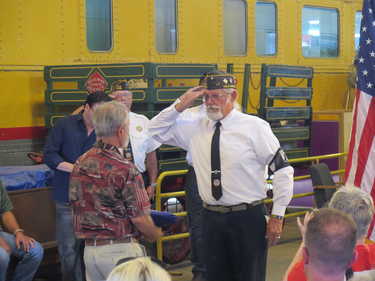 Member of VFW Salutes Bill Sweetwood in memory of his uncle.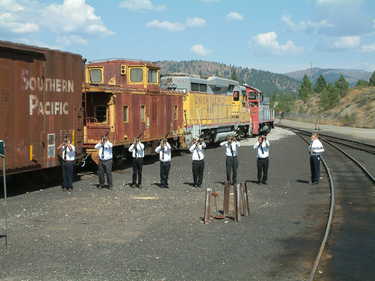 Members of the VFW and American Legion perform a 21 Gun Salute for Charles O. Sweet Wood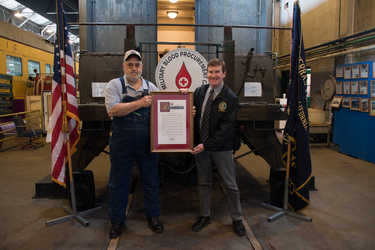 Bill Cardoza and Steve Habeck with California Senate Resolution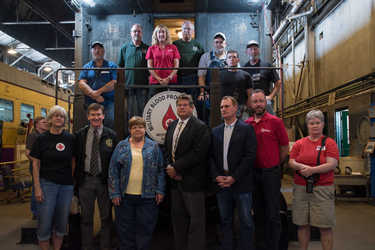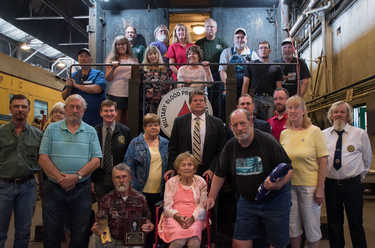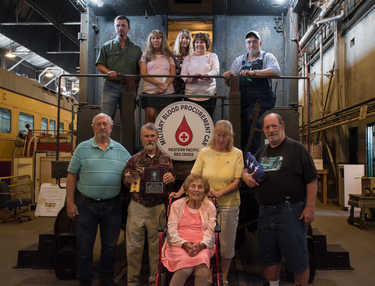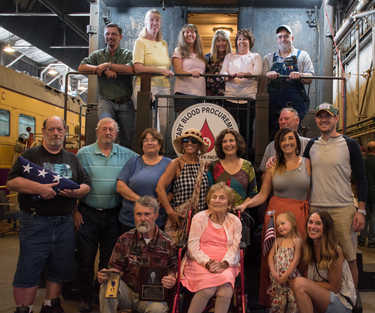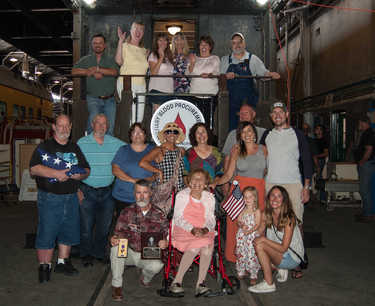 The families thanked everyone for coming.


You are invited to make a donation to help the FRRS
continue the restoration of the 'Charles O. Sweetwood'




Page last updated: Thu Apr 21 19:32:53 PDT 2022