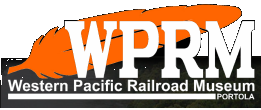 M23 Rides Again!
June 2nd, 2018
Model T Ford Motorcar 23 is a representative example of the typical light transportation vehicles used on logging railroads. They were used to take staples or "the boss" to the logging camps and for track inspection. The Sierra Railroad used a similar car, which they still have.

Our car is built from a 1923 roadster. The trunk has been removed and replaced with an era wooden pick-up bed. The front and rear axles have been adapted with Fairmont 20" wheels.

WPRM acquired Motorcar 23 by donation in 1996.

For the first time in almost twenty years, M23 is back in service. With great effort and struggle, Charlie Spikes as project lead, Duane Vander Veen, David Elems and Bil Jackson have returned the motorcar to service. It runs well both forward and backward with no problems noted.

Ann Morningstar got a special ride Saturday June 2nd, 2018 as part of the Members' Meeting event. M23 is dedicated to the memory of her husband, Ron Huey. Ron was very instrumental in reviving it and other pieces of equipment at WPRM and we cannot thank him and Ann enough for being avid supporters of the FRRS.

Charlie expressed special thanks to Van, Bil and David for their help on this project. Great job guys.