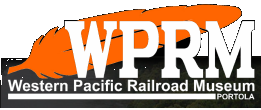 WP 106 History
FRRS Archives

As the Korean War escalated, the Western Pacific Railroad considered ideas to support the troops overseas. An idea is proposed, often credited to WP's innovative PR director Gilbert Kneiss, to work with the Red Cross to equip a passenger car as a rolling blood collection center.

The concept of a large, long distance traveling blood collection center, let alone one that was a railroad car, was an idea that had never been tried. Previous blood collection centers were all in urban areas and the bloodmobiles attached to them stayed in very close proximity, less than 75 miles. The Blood Procurement Car would eventually, in some cases, see its collected blood travel over 1,300 miles to a processing center.

To create its blood procurement car, the Western Pacific chose Eastern Division Superintendent's Car 106, a Pullman executive observation car. The 106 had been built by Pullman in September 1917 as part of a set of three cars: the "Patriot", the "Pilgrim" and the "Pioneer", which was the future 106. All three were used in Pullman's lease fleet, a steam era version of an executive jet timeshare.

It was deemed appropriate to name the car in honor of the first WP employee killed in the war, former WP carman and US Army medic Charles Sweetwood. On January 10, 1951, in a huge ceremony in Oakland, WP President Frederick Whitman presented the newly christened "Charles O. Sweetwood" to Raymond H, Barrows of the American Red Cross.

Click on an image to open the slide show,
or use the links to photographs below for large images of the
WP 106 History gallery.
Page last updated: Thu Apr 21 19:34:14 PDT 2022

---
View mobile friendly version of this web page HERE.
---
Links to photographs in slide show:

Image number 1 -- Charles O Sweetwood
Image number 2 -- Backing down 3rd Street In Oakland for January 1951 dedication
Image number 3 -- Giving blood in one of the rooms
Image number 4 -- Sweetwood on the Reno Branch
Image number 5 -- Sweetwood Window Red Cross Display 9-14-51
Image number 6 -- Zephyr collecting blood from the Sweetwood to express to a blood processing center
Image number 7 -- In September 1951, Don R. Murphy, college student at Brigham Young University, becomes 10,000th person to donate blood aboard the "Charles O. Sweetwood", a Red Cross-Western Pacific blood procurement car that was used during the Korean War. Maxine Paepier, staff nurse on the car, prepares to take the blood.
Image number 8 -- Color Guard at Crissy Field Decommissioning Nov 1953
Image number 9 -- WP President Frederic B. Whitman speaking at decommissioning


Page last updated: Thu Apr 21 19:34:14 PDT 2022