Necessitated by construction of Ford Motor Company's new Milpitas, California auto plant, Western Pacific found itself in position to purchase additional diesels to supplement its fleet of GP7's, FT's and F7 diesels. In 1955, WP returned to EMD for 8 more locomotives following the delivery of their GP7's 2 years prior. By this time, EMD had retired the GP7 model, replacing it with the popular GP9 model with 250 additional horsepower in an identical carbody. GP9's 725-732 were purchased for $184,764, representing a reduced price of $105.58 per horsepower, a few dollars savings over the cost per horsepower of the earlier GP7's. Equipped with dual controls, multiple unit capability, barrel style headlights and "Fast Switching Gear", the GP9's could be found on the road as well as on locals. They were very well liked by yard crews due to their fast switching gear and could often be found in yard service. WP's 8 GP9's represent a very small sliver of the 4,280 total GP9's produced by EMD, making this model one of the most produced diesel locomotives of all time. As of today, hundreds of GP9's still earn their keep on shortlines and switching railroads all over North America.

Following the Union Pacific/Western Pacific merger in 1982, UP repainted the 725 into their armor yellow and harbor mist gray paint scheme with red lettering in late January of 1985, and returned her to former WP lines in the Bay Area. The 725 didn't last long in its new identity however, as it was sold in August of 1985 to Iowa Interstate Railroad as their #300. WP 725/UP300 spent 10 years working the Iowa Interstate before being sold to the Feather River Rail Society in 1995 along with sister WP 731. WP 725 is currently stored out of service and wears faded UP paint, as IAIS never repainted UP 300 into their attractive black paint scheme.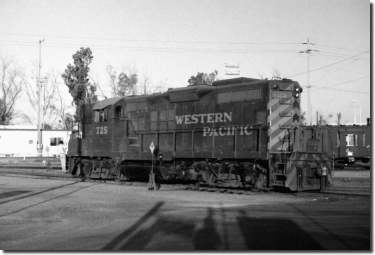 WP 725 working in South Sacramento in the late 1970's in yard service.
WP 725 in faded yellow paint of successor Union Pacific, in storage at the Western Pacific Railroad Museum in 2008.