Western Pacific #563 has led an interesting life, being one of only two switch engines on the system to have been painted in all of the WP's switcher paint schemes over the years. Delivered in 1951 in black and white paint, (like the WP 501 and 512), she has worn silver and orange, solid orange, and being one of a few Alco's left on the WP in the 1970's, was painted in green and orange paint.

WP 563 didn't wear the new standard "Perlman Green" scheme that she is in now for very long, as she was quickly primered and sold to the Central California Traction where she was repainted Cherry Red and became their #50. What the "Traction Co." really needed though was a road switcher, not another switch engine, so 563 didn't stat in her new home long, being traded back to the WP for larger Tidewater Southern RS-1 #746. WP re-sold the orphan engine to Foster Farms of Livingston, CA where she worked until retirement as a plant switcher, having been repainted in a caramel and black scheme with large Foster Farms "Rooster" logo on the cab side. When Foster Farms retired the unit in favor of remote controlled switchers in the 1990's, FRRS members stepped in and bought the 563 and brought her to Portola to enjoy her retirement as a display piece, where she was eventually restored and repainted by FRRS founder Norman Holmes in the last paint scheme she wore in WP service. Currently, the 563 is under mechanical restoration, with minor issues needing to be addressed, such as new batteries and some work to her running gear. It is in line to have this work done in the second half of 2011. In the mean time, WP 563 can usually be found coupled to her old caboose, Central California Traction #24 with a couple of ice reefers out front, reminiscent of days when the CCT borrowed WP diesels to keep their produce trains running between Stockton, Lodi & Sacramento, California in the early 1970's.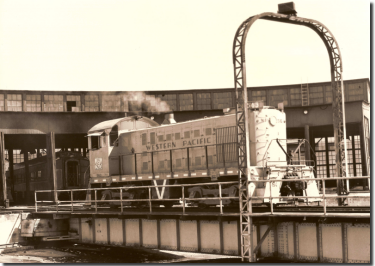 WP 563 taking a spin on the Oakland, California turntable some time in the 1960's.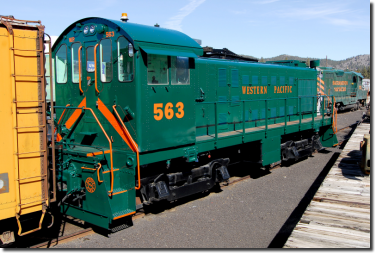 WP 563 on Display at the Western Pacific Railroad Museum