<!-black table-!>

<!-content table-!>
WP F7A 924-D receives servicing at the Elko, Nevada locomotive facility.

Join us in Elko, Nevada, April 24-26, 2015!

Celebrate the Western Pacific Family!

<!-Begin RAL Descrition table-!>

The Western Pacific Railroad was not the largest of the Western Class-One railroads. It wasn't formed until 1906, with completion in 1909. However, operating in the shadow of giants like the Southern Pacific, Santa Fe and the Union Pacific, the relatively young WP had to work that much harder to survive. Thanks to the tenacious spirit and dedication of its employees, the WP rolled on in the face of occasional adversity with a spirit, humor, and culture that made them a legendary figure in the annals of railroading. Come celebrate with us at our annual WP Historical Conventions. These conventions feature clinics and presentations on models, prototype equipment, lines and structures as well as the people that made the WP famous. A large banquet with guest speaker rounds out the weekends festivities on Saturday evening.

<!-End RAL Descrition table-!>
<!-End content table-!>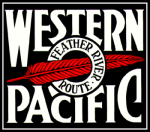 "Exploring the East End"

2015 WP Historical Convention

April 24-26, 2015 - Elko, Nevada

Friday, Saturday and Sunday

Hosted by the Red Lion Inn - located in Elko, Nevada
2015 Convention Schedule

To be announced soon, check back here for more info.

Featuring…

---

• Historic and Modeling Clinics

• Archive and Photo Exhibits
• Rare Films from the Virgil Staff Collection

• Special Nevada Northern Excursion and Tour
• Our Ever Popular Raffle!

• Vendors and Special Guests
• Modeling Displays

• Saturday night Banquet and Guest Speaker
• Presentions include: the WP and the Nevada Northern, Last Days of SN Electric, Deep Creek Railroad, the WP and the McCloud River Ry, WP modelling and more!

MODELERS

Don't forget to enter our model exhibition and contest. Bring your WP / SN / TS / CCT / OT / ABL / etc. models.

MUSEUM TOUR

There will be a special tour of the Northeastern Nevada Museum! Check the next page and sign up when you register.

Remember to sign up when you register by emailing us at convention@wplives.org

---

NEVADA NORTHERN EXCURSION & TOUR!

SPECIAL EXTRA FARE EVENT on Sunday at the Nevada Northern Railway Museum! Enjoy an exclusive steam excursion, lunch and tours.

(LIMITED TO 50 PEOPLE)

Fares…

---

Pre-Registration extended

Pre-Registration ending April 18, 2015:


• Combination Fare (convention and banquet): $83 for FRRS members, $95 for non members


• Convention only: $42 for FRRS members, $55 for non-members


• Banquet only (available until April 10): $50


• Convention only after April 10 until April 22: $47 for FRRS members, $60 for non-members


• Convention only at the door: $55 for FRRS members, $65 for non-members

note: No charge for non-rail spouses to attend the convention, but they need to be registered and have paid fare to attend clinics, banquet and some special events.

Non-members wishing to join FRRS can receive a 1 year Active membership for $25 more over cost of any non-member fare. This is
a 50% discount over regular Active membership. As a special bonus, current members wishing to renew their Active memberships can also do so for 50% off ($25 extra) when they register.

Non-Member
Active Membership


Member
Active Renewal



Download & Mail in

2015 Convention Registrations...

Mail to:

WP Historical Convention 2015
5643 Sonoma Drive, Apt. 1
Pleasanton, CA 94566

Information on the Red Lion Inn - Elko, Nevada

---

---

2065 Idaho Street, Elko, NV 89801
. Within walking distance of shopping, restaurants, casinos and nightlife
. Complimentary fitness center, seasonal pool, spa and massage, on-site casino
. Complimentary WiFi and 24-hour business center
. 24 hour restaurant, bar and grill, Starbucks
. Pet-friendly (with small fee)


DISCOUNT ROOMS AVAILABLE FOR CONVENTION

---

Call (800) 733-5466 and tell them you are with the Western Pacific Historic Convention. King and Double Bed Rooms are reserve priced at $89 + tax (Deluxe) and $99 + tax (Premium) until April 10.

SPECIAL EVENTS:

---

To Be Announced


- Special tour at Northeastern Nevada Museum
1515 Idaho Street, Elko, NV 89801

Sunday - April 26
- Nevada Northern Railway Museum Excursion and Tour - 7:30 AM - 7:30 PM - $115 extra fare
Board a tour bus at the Red Lion for an exclusive excursion and tours in historic Ely, Nevada on the Nevada Northern Railway. There will be tours of the extensive shops and yards,
a 2 hour STEAM POWERED excursion and a catered lunch. Limit is 50 and sign-up is first come, first served.

You may also enjoy...
- Western Folklife Museum - Elko - Downtown Elko - casinos, restaurants, theaters
- California Trail Interpretive Center - 8 miles west of Elko, at the Hunter exit off I-80 (exit 292)

For more information, Email Convention

Register here, on-line, at http://convention.WPLives.org

or mail payments to: WP Historic Convention 2015

5643 Sonoma Drive, Apt. 1

Pleasanton, CA 94566

Guest Speaker, Times, Clinic and Event Line-Up to be announced soon.

More info will be posted here as it becomes available.
<!-End black table-!>
Home | Contact | News Blog | Follow us on Facebook
Operated by the Feather River Rail Society, a California 501c3 Non Profit Organization
700 Western Pacific Way, Portola, California 96122 | 530.832.4131 | info@wplives.org
©2015 Feather River Rail Society. All Rights Reserved